This is it – the ninth and final installment of our Row of the Month quilt along. It's time to assemble your quilt!
Let creativity be your guide. You may want to join the rows together with a few alternate, or filler, rows of sashing, Checker Board blocks, Half Square Triangles, Hourglass or any other blocks you desire. You may also want to use some of these elements in your border.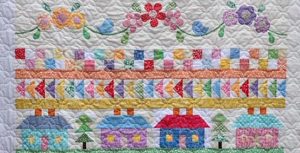 Download the Assembly Instructions and begin.
As a reminder, this is the quilt that Irene Philp made:
In summary, here are links to all of the quilt along instructions:
Questions? Please email Director at Large Irene Lafleche (directoratlarge@canadianquilter.com).
We hope that you have enjoyed this Row of the Month project as much as we enjoyed sharing it with you and look forward to seeing your finished quilts.