Canadian Quilter Magazine
Our quarterly magazine celebrates the rich talent of Canada's creative quilting culture. We feature all genres and their makers, while fostering the passions and preserving the traditions of our vibrant quiltmaking community.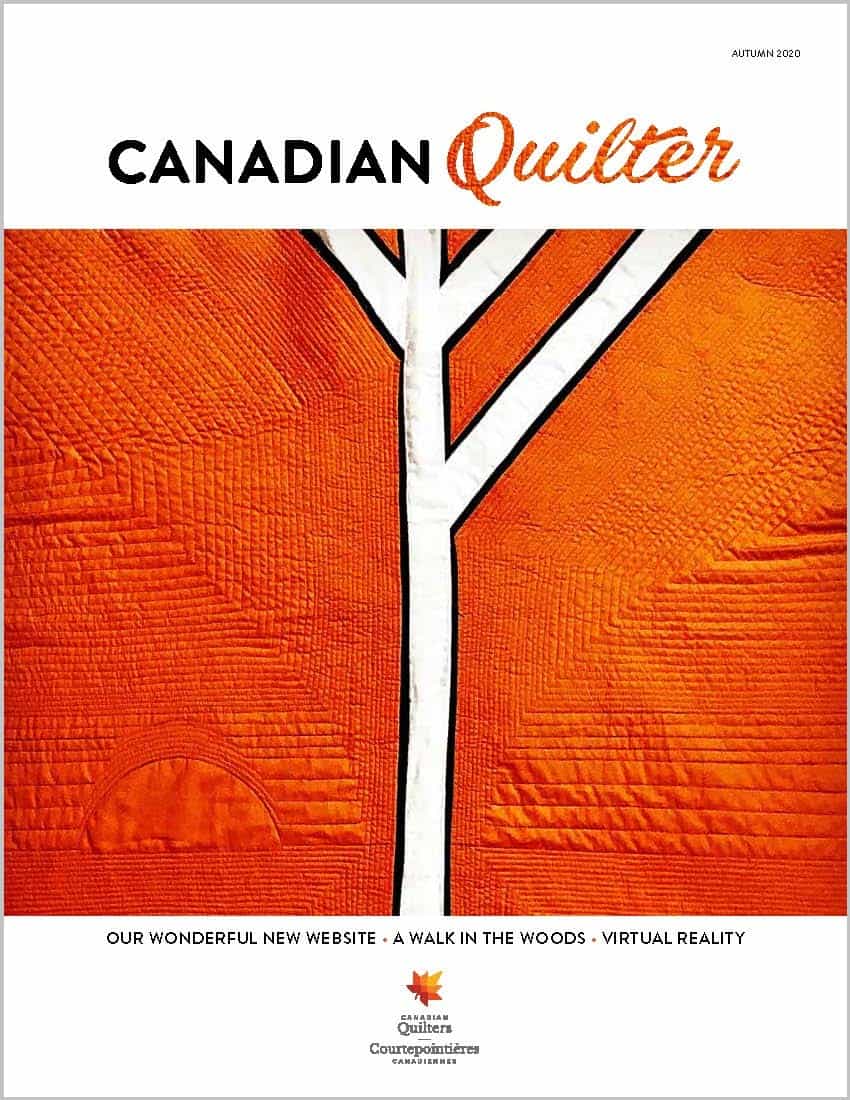 Autumn 2020
Virtual Reality
A Labour of Love
Opportunity and Adaptation: A Global Making
Zoom, Zoom! Royal City Quilter's Guild Goes Virtual
Fabric Love Affair
Quilt Canada, COVID-19 and UFOs, Oh My!
At a Crossroads: Grand National 2021
Sisters Helping Sisters
Getting to Know TrendTex
Buxton's Forget-me-not Block of Honor Quilt
Meet Canadian quilters up close. Learn new techniques and follow emerging trends. Enjoy regular features such as patterns, quilting tips, quilt challenges, and product and book reviews. We are keen to support the next generation of quilters too, so projects, tips and challenges designed specifically for young and new makers are included as well.
Members receive four issues a year, delivered to your mailbox. New issues are available in February, May, August and November and range in size from 70 to 100 pages. Quilt Canada, our annual national juried show and conference is profiled in the autumn issue, which showcases inspiring and award-winning artisans.
CANADIAN QUILTER COMES FREE WITH YOUR MEMBERSHIP — JOIN TODAY!
Have a story about interesting makers or groups who shape the culture of Canada's quilting community? We invite authors and designers to submit articles of interest and stories that centre on the five Qs: quilts, quilting, quilters, quilt guilds and quilt events. Information and stories about fibre artists and fibre art are also welcome. To submit material for upcoming issues — both articles and patterns — contact our Editor, Marie Cheesman.
READ RECENT ISSUES
There's still time to browse the two previous seasons of Canadian Quilter
READ MORE — BROWSE THE CANADIAN QUILTER ARCHIVES!
Advertise in Canadian Quilter
Reach quilters and quilt lovers across Canada and around the world. The CQA/ACC supports all quilting genres and their makers — traditional, modern, contemporary and art — from novice to professional.