One of four tributes to the seasons, Spring features a pieced border of Star and Irish Chain blocks that frame a bouquet of appliquéd irises. Patterns for the other three seasons are available at thequiltersbouquet.com. Quilted by the very talented Nuala Evans at Newla's Needle.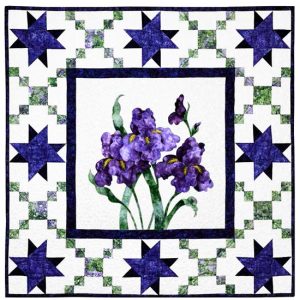 Download the Spring pattern. The Master Placement Template is shown at 60% of its original size in the pattern. If you would prefer to work with it at full size you can download the Spring Master Placement Template – 100%.
Arlene Nicholas is a passionate pattern designer and teacher and loves sharing her ideas with fellow quilters and guilds. Follow her on Facebook (quiltersbouquet) and Instagram @thequiltersbouquet.