The 32nd year of the CQA/ACC TrendTex Challenge has now come to an end. And, after 305 fabric bundles were sold and 77 beautiful wall quilts submitted, we are delighted to share the winners with you.
Carole Gold's charming Wishing for 2020 Vision, shown above, won first place in the 2020 TrendTex Challenge. Says Carole, "Stacking drugstore magnifiers with prescription lenses so I could stitch while watching TV made me yearn for my youth, when I had 2020 vision. I've since invested in bifocals, but will never stop wishing for 2020 vision!" Carole is from Peace River, AB.
Last September (2019), the CQA/ACC Board selected the theme for this year's challenge; fittingly, it was 2020. This challenge is our association's only fundraising activity and was generously supported by TrendTex's donation of approximately 400 metres of fabric. We always look forward to displaying the entries at Quilt Canada and encouraging show attendees to select the Viewer's Choice. Unfortunately, due to COVID-19, the judging and displaying of these quilts had to be dealt with differently this year.
But entrants did not back down from the challenge and the three judges (Kirstin Fearon, Linda Lake and Bonnie Rankin) stepped up to jury-in and judge the entries. A virtual gallery on our website in October 2020 showcased all 77 pieces and visitors to the site were able to cast a vote for their favourite there. Due to the timing of the gallery, the Viewer's Choice winner will be announced in the next issue of the magazine along with the results of our first ever online auction of the entries.
If you enjoyed this challenge, or missed it for whatever reason, fabric kits for the 2021 challenge, Friendship, are now available for sale on our website ($25 for CQA/ACC members and $30 for non-members). The colour palette is scrumptious!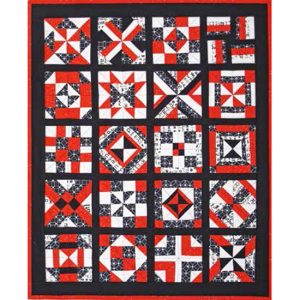 SECOND PLACE
Twenty times Twenty, Gay Walker, Calgary, AB
ARTIST STATEMENT
This quilt contains 20 pieced blocks (plus sashing and borders), and each block is composed of 20 pieces of fabric. I enjoyed the challenge of designing blocks with the correct number of pieces, using only the five designated fabrics and still getting the colours and values balanced.
THIRD PLACE
Twisted Words, Judy Cruikshank, Surrey, BC
ARTIST STATEMENT
It is 2020. Words, whether written or spoken, can no longer be taken at face value. All too easily, they are stretched and twisted beyond their original meaning to suit the agenda of their audience.

JUDGE'S CHOICE (KIRSTIN FEARON)
Bullseye, Joanne Love, Whitehorse, YK
ARTIST STATEMENT
My interpretation of this year's theme 2020 got me thinking of when you focus on an object in your vision, aim and hit the target perfectly – like playing a game of darts. With 20 being one of the numbers on a popular version of a dart board, it incorporates the theme. My version of the board has the number 20 repeated so you can have more chances to collect extra points.

JUDGE'S CHOICE (LINDA LAKE)
Buzz-Words for the 2020s!, Gay Walker, Calgary, AB
ARTIST STATEMENT
Upbeat words on one of the TrendTex fabrics suggested the title to me, and from there it seemed logical to include the honeycomb pattern and the machine-embroidered bees.

JUDGE'S CHOICE (BONNIE RANKIN)
2020 Vision, Joanne Love, Whitehorse, YK
ARTIST STATEMENT
With this year's 2020 theme I immediately thought of what we refer to as having perfect vision – 20/20. Rather than use a human face for my subject I chose the owl, as it is known for its binocular vision and huge, intriguing eyes. The five fabrics worked well together, but I decided to embellish them by adding tea-dyed stabilizer for more colour and interest.
Thank you to everyone who participated!