It's September and the leaves are starting to change. Does it make you want to dig into an autumn quilting project? Why not use the new CQA/ACC logo as your starting point? That classic maple leaf holds so much potential. Make it in solids, batiks, or a collection of scraps – so many choices!
Want to give it a try? We found a free tutorial for the 7.5″ block shown below at QuiltBee.
If you prefer a different size, there are instructions for a similar leaf in 5″, 10″ and 15″ blocks at Generations Quilt Patterns that are made with a foundation-pieced leaf tip.
Want to mix it up a bit? President Jane shared a classic Maple Leaf block with us that she found in Canadian Living in 2010 and has enjoyed making a number of times over the years. She is making it again for the baby boy of one of her nephews who is a big fan of the Maple Leafs and calling it Maple Leaves from Toronto a.k.a. Toronto Maple Leafs.
In the recent Autumn issue of Canadian Quilter we shared several inspiring quilts made by our readers that evoked a walk in the woods, including Joan Bowden's Fall Breeze, which was made with Jane's leaf block in two different sizes.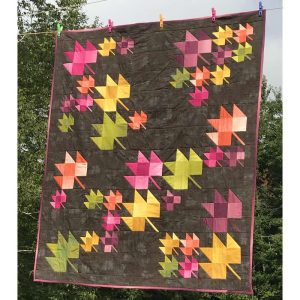 The inspiration didn't stop there. Linda Kyle's very appropriately named Third Weekend in October was designed by Ruth Powers and combines both blocks. Isn't is gorgeous? The pattern is meant to look like fallen leaves so no block is repeated. Ruth thought that quilters would be frightened by the layout but it's proven to be more than popular.
Did this get your creative juices flowing? Need a few more ideas? Visit our Maple Leaf Forever Pinterest board for lots more inspiration and start creating your own colourful tribute to autumn.