Bordering on Insanity – Quilt Math That Won't Strain Your Brain with Sherri Hisey – Non-Member Ticket Sale
You are invited to join us for a one hour Zoom webinar presentation by Sherri Hisey on Saturday, October 22 at 3 pm ET.
SOLD OUT
---
Description of Presentation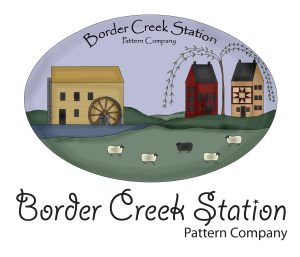 Bordering on Insanity – Quilt Math That Won't Strain Your Brain

Step out of that BOX! Adding borders to your quilt don't have to be boring – they can be pieced!
Like ice cream on a slice of pie, pieced borders will take your quilt from 'ordinary' to 'extraordinary' any day of the week.
Let Sherri share her secrets for basic math and the theories to understanding what, when, where, why and how it all works so you can create, sew and ensure that your pieced borders will be perfect every time.
About Sherri Hisey
Border Creek Station Pattern Company

When Sherri started teaching quilting classes in 1999 (last century), she began by taking the mystery out of the quilt making process and focused on mastering solid techniques so quilters would have confidence to complete the projects they wanted to, while keeping the emphasis on fun. As a joke, Sherri created a mystery project to keep her students guessing but they loved the process and demanded more. So ironically, through her Border Creek Station Pattern Company, Sherri brought "mystery" and "fun" back together with the BCS Mystery Quilt Club which is now 19 years old.
Sherri's designs have been published in quilt magazines including QUILT, CQA and Quilt Sampler with her design being chosen for the book Quilt Lovers' Favorites by Better Homes and Gardens Vol. 13. Sherri was also chosen for the American Patchwork & Quilting Calendar 2022, her quilt being featured for the month of January. Mystery patterns continue to be her specialty with many requests for her designs. Creating patterns for Moda Fabrics is one of her favourite things with sneak peeks of upcoming lines she can play to her heart's content. Oh…and teaching on quilt cruises provides the chance to see the world and a good bit of sun in the cold winter months.
Sherri lives in Gravenhurst, Ontario Canada with her very supportive & understanding husband Ron (who helps Sherri by binding most of her quilts – he is a keeper!) and since their children have left the nest, they also keep busy with their dogs, Jessie & Logan who of course, love cuddling with quilts.
Continue Shopping