Our Social Fabric (OSF) believes in a future where no useable fabric ends up in Canadian landfills. This unique textile recycling initiative is providing a wonderful source of fabrics for quilters.
Vancouver-based fabric store, Our Social Fabric, is a non-profit selling donated deadstock fabric and fibre-arts supplies online and in-person. We keep 'waste' fabric out of landfill by taking donations of fabric and selling it to the fibre-arts and slow-fashion communities. In 2021, we kept more than 20 tons of textiles and sewing-related materials out of landfills. Over the last five years, we've diverted a staggering 85.5 tons!
OSF fabric, notions, and supplies are priced at up to 75 per cent less than regular retail prices. We sell to the public through weekly in-person sales at our brick-and mortar store and ship across Canada through our online store.
Our shelves, virtual and real, are crammed with unique, high-quality fabrics that shoppers won't find anywhere else. Pat Nelson, of Vancouver, BC, a quilter of 25 years explains: "I love the top-grade cotton I can find at Our Social Fabric. I'd say I buy around 20 per cent of all my supplies from them. The best bit is not being at the mercy of what designers think is currently fashionable.
"For instance, I wanted to make a quilt for my sister-in-law and her favourite colours are burgundy and green. I couldn't find those colours in traditional quilting stores, but I could find them at OSF! Their prices are really good, and supporting a non-profit is a double bonus."
SMALL BEGINNINGS
OSF was founded in 2009 by Leandre Melançon, a set decorator in Vancouver's movie industry, and Kim Cathers, a fashion designer with a passion for upcycling and using recycled textiles. They noticed the large volumes of fabric waste being generated by the movie industry in Vancouver and took action to
save it from going to landfills. Leandre and Kim began to collect waste fabric and stockpile it in a storage locker. They held occasional sales in a parking lot and sold to emerging designers at low prices.
It soon became clear that there wasn't enough room in the storage locker and demand was greater than parking lot sales could fulfill. OSF officially became a non-profit in 2010 and moved into its first rented store space.
With that space, OSF could hold more frequent sales and had the ability to measure, bundle, and attach price tags to the fabrics. We still received donations from the movie industry, but also increasingly from clothing manufacturers, designers, estates, and home sewers.
OSF is now based in the heart of Vancouver's cultural quarter. Surrounded by clothing manufacturers and artists alike, OSF is firmly rooted in its local community.
EXPANDING ACROSS CANADA
In 2020, the OSF team reacted quickly to the COVID-19 pandemic. When the retail store was forced to close for some time, the management team pivoted and took the business online. The website was first set up for mask-making supplies and over time expanded to include a full range of fabric, notions, and patterns. Now, we enjoy a diverse customer base all over Canada to complement our vibrant in-store shopping events.
Our customers are really varied. We have home sewists and crafters, fibre artists, fashion students, sustainable fashion designers, and small-scale manufacturers. Our customers are looking for great-value fabrics, or they are interested in reducing their environmental impact, or they love the uniqueness of the products and the thrill of finding one-off treasures. And sometimes, all three!
SOMETHING FOR EVERYONE
Alongside the fat quarters, bundles, and scrap bags of cotton, OSF stocks all kinds of fabric from knits and wovens for garment making, to home decor fabrics, patterns, yarns, sewing machines, notions, and tools.
We have a lot of quilters who shop with us and we've been saving up some of our quilting supplies to be ready for when Quilt Canada 2022 arrives in Vancouver. Be prepared to see a lot of cottons as well as notions and tools in our online and retail store then.
DONATIONS
Everything that is sold at OSF is first received as a donation. The following items are accepted:
unused fabric of ½ metre length or more
quilting cottons of any size
leather
sewing-related items such as trims, sewing tools, notions, and patterns
functioning sewing machines and sergers
knitting and embroidery supplies
Those interested in donating will find information and contact details at oursocialfabric.ca.
COMMUNITY DRIVEN
OSF is run by a small but passionate volunteer board, supported by a small staff and many dedicated volunteers. We value our volunteers immensely and credit them with being able to achieve as much as we do. Volunteers source and receive donations, sort through donated materials and then measure, roll, and price them for sale. They are also the heart and soul of the retail store, greeting customers, answering questions, and sharing their sewing experiences.
As an organization, OSF believes that fabric waste cannot only be avoided, but channelled to create positive change in the community. As a non-profit our pricing structure is designed so that we make just enough to keep the business running.
Joanna Wyatt, chair of Our Social Fabric, explains further: "Being part of a wider community is really important to us. Any surplus funds we have are channelled back into sewing-related educational opportunities and organizations as well as key community causes. For example, we offer three annual scholarships to Kwantlen Polytechnic University's school of fashion design. And in 2021, when first the fires and then the floods were raging in British Columbia, we donated part of our sales or made an in-kind donation to support the rebuilding efforts."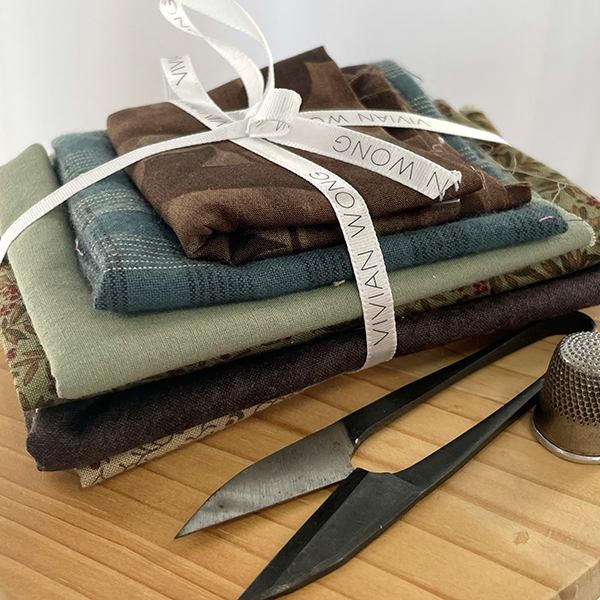 WHAT NEXT?
OSF is looking to reach more customers across Canada and share the work we do. With a mission to make sewing approachable and affordable while also making a positive environmental impact, Our Social Fabric is a must-visit for any Canadian sewist.
Shop the available fabrics at oursocialfabric.ca, and follow OSF on Facebook and Instagram @oursocialfabric. And if you're visiting Vancouver for Quilt Canada 2022, you'll find the in-person store at 270-1275 Venables Street.
Gemma Davison is Our Social Fabric's Manager, Marketing & Communications