Andrea Tsang Jackson's The Here and Elsewhere Bee compiles nearly 1,200 immigration stories and assembles them into a 10′ x 10′ quilt. Tsang Jackson was this year's artist-in-residence at the Canadian Museum of Immigration at Pier 21, Halifax, NS, and worked for several months collecting small quilt blocks made by visitors on site.
The project is a collaborative quilt, inspired by the children's storybook Selina and the Bear Paw Quilt by American-born writer Barbara Smucker. Each of the almost 1,200 blocks was completed by a visitor, representing a bit of each visitor's immigration narrative. The blocks are grouped by thematic "trees" in a forest—family, love, freedom and diversity, cultural references,new hopes and dreams, appreciation of nature, agriculture, work and oceanic journeys.
The quilt's overall organization illustrates how, although each of our stories are unique, there are strong threads that tie them together. The project was a hands-on way to understand how personal objects can hold special meaning, especially when made by hand. The materials were presented to visitors in vintage suitcases, referring to the moment of arrival in a new place and encouraged visitors to think about their own immigration stories, whether the stories are 30 years old or 300 years old.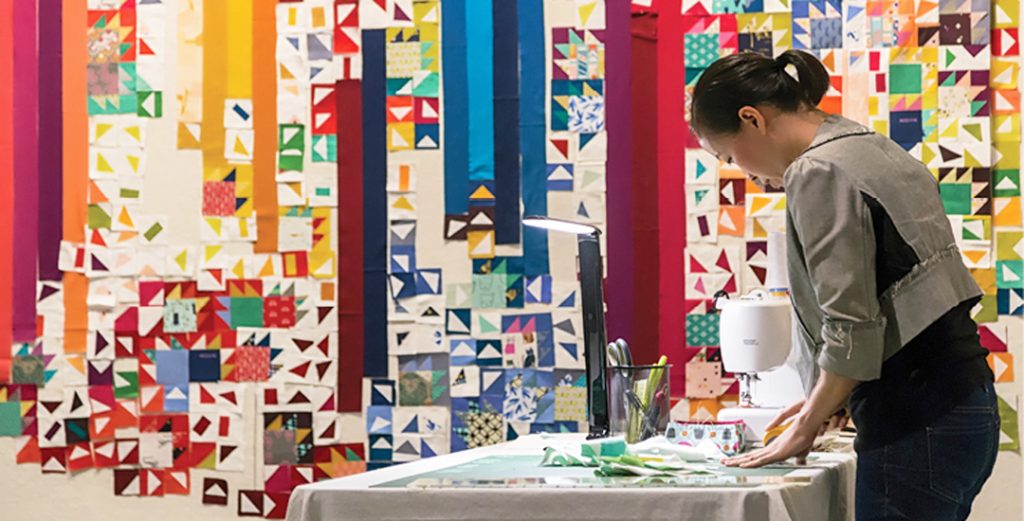 "The power of a single narrative, contained in a two-and-a-half inch square, is amplified when we tie it to others' experiences," says Tsang Jackson. "The connections are made in very human experiences that not only represent our experiences in Canada, but universal ideas about immigration that strike very personal chords."
"The Here and Elsewhere Bee is less about my work as an artist," she continues, "and more about facilitating the telling of others' stories. The data I collected through conversations with visitors about their quilt block truly informed the overall quilt design. My hope was that visitors'
interaction with quilting as a modern art form was approachable, enlightening and that it allowed them to reflect on their personal histories."
"As a museum of stories, we ask people to share their Canadian immigration experiences every day," says Marie Chapman, CEO of the Canadian Museum of Immigration at Pier 21. "Artist-in-residence Andrea Tsang Jackson's quilt provided a beautiful form of collaborative storytelling for our visitors. The significance is perhaps doubly meaningful as quilts were often a treasure from home that immigrants brought with them."
The Here and Elsewhere Bee was conceived and pieced by Andrea Tsang Jackson, and quilted by Sheri Lund. The quilt recently won first place in the Group or Bee Quilts category at the 2018 QuiltCon Conference held in Pasadena, CA, US.
CQA/ACC is honoured to have The Here and Elsewhere Bee on display in their booth at Quilt Canada 2018 held in Vancouver, BC, at Vancouver Convention Centre West. If you are attending, please drop by the booth and have a look at this meaningful quilt.
Andrea Tsang Jackson is an emerging textile artist currently based in Halifax, Nova Scotia. Tsang Jackson holds a Masters in Architecture from McGill University and a Masters degree in Arts in Education from the Harvard Graduate School of Education. Her work has been published in Flare, Uppercase, The Coast, The Chronicle Herald, Make Modern and her upcoming work will be showcased in the 2018 QuiltCon Magazine. She currently has work on display in Oh! Canada, a juried exhibition of work by members of Craft Nova Scotia. She is the winner of the 2016 Etsy Canada Award in the New Talent category.