Quilting and thread belong together – they are inseparable. These two elements will steal centre stage when given a chance. The Canadian Quilters' Association/Association canadienne de la courtepointe (CQA/ACC) Quilted Postcard Challenge is a perfect opportunity to play with threads and create miniature, quilted art which will benefit a charity in the process. Here are some additional thread tips to help inspire your nature-themed submissions by the May 1, 2020, deadline!
The silk screened starfish pair above (on hand-dyed fabric) are off to the races with some free-motion quilting providing dimension and added focus from Glitter® metallic #103 bronze. Threads that perform a function and make a statement double the fun and effect. The viewer is captivated by the shimmer!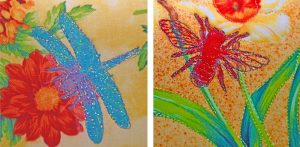 The busy bees and dragonfly glitter in the sunlight, free-motion quilted with Pearl, both no. 111 and no. 114, Rainbow Glitter. The foliage basks in variegated polyester no. 5062 Fantastico® Glowing Greens – appropriately named. Simple thread embellishments even on commercially printed fabric will help to create definition, interest and texture.
A Canadian maple leaf deserves to share in the glory. Another silkscreened image offers renewal and customizes a commercially printed fabric. Leaf veins are the natural focus, reflecting no. 103 bronze – a versatile metallic used in several samples in this article.
Creating a three dimensional leaf skeleton entirely of thread is an effective embellishment technique. Trace over a leaf onto a water soluble stabilizer sheet. Insert an organza or tulle layer. Free-motion quilt threads in your choice of solid matte colours and infuse a metallic thread for reflection; match the bobbin solid colour, soak in water, pat dry with a towel and voilà (thread play technique previously featured in this column).
This Curious George goldfish is fishing for your inspiration! Join our group page on Facebook: cqapostcardchallenge and share your ideas to dress him up. Watch for George's photo and post. Someone will receive a gift package consisting of background fabric, as shown, an embellishment package with beads, needles, bobbin thread and metallic thread. If you are not on social media, contact me through my website before December 31, 2019. Good luck!
There is no limit to creativity for this postcard challenge. Since the projects are small, they are doable! All techniques are welcome. I hope you are inspired by nature and thread. Enjoy the adventure with a few new ideas. We look forward to receiving entries and displaying them in the CQA/ACC postcard gallery to sell to attendees at Quilt Canada 2020, Edmonton Convention Centre, June 18 to 20, 2020.
Check out Cindy's Threadworks' helpful YouTube video tutorials when making your own beautiful creations:
CQA Postcard Challenge Thread Tips
CQA Postcard Challenge Stabilizer Tips
CQA Postcard Challenge Thread Tips #3
CQA Postcard Challenge Thread Tips #4
Happy creative postcard making!