In one way or another, I've been a teacher all my life, and that's what led me to this global event. My name is Peter Byrne and I am an international award-winning, published, modern quilter and teacher with a deep passion for innovation and design. Maintaining a fresh approach to quilting with original designs and technical mastery is my strength, my passion is creativity. I am thrilled to have opportunities to share new techniques and enhance community.
In April of this year, I looked proudly at my calendar for 2020 and 2021 filled with dozens of workshops and trunk shows, and then everything changed. In one colossal cascading sweep, COVID-19 cancellations ripped through my schedule and left nothing but a spool of thread standing in its wake. It was apparent that I had to change my strategy for how to share my passion for innovation and design within the quilting community. I had recently developed a new approach to raw edge appliqué absent of fusible web called hover-quilting. This innovative technique produces not only a beautiful controlled frayed edge but also creates the illusion of pieces hovering above the quilt top. Hover-quilting was showcased in Curated Quilts' eleventh issue, "The Appliqués Gallery" this past spring; being published spurred me on to share it more broadly.
Let's move the clock back to February 2020. In that month, I attended QuiltCon 2020 and had the honour of winning two major awards, Best in Show and Best Machine Quilting Frameless. These awards showered me with a great deal of attention and my social media accounts exploded; that's why my calendar was so full! Now as the world grappled with how to connect during the pandemic, I had to rethink how I was going to teach and share my hover-quilting technique. I posted 'Hover-quilting Explained' on social media and received a lot of interest and positive feedback.
The Hover-Quilt Mini Inspiration Quilt measures 15 inches square and encompasses all of the techniques that make this process so unique and versatile.
On social media it had been my norm to post only photos of finished quilts – I had never taken my followers through my quilt-making process. With more time on my hands and the notoriety of winning at QuiltCon 2020 everything changed.
There are two ways to approach shaping the HSTs. Depending on the design element, you cut either a triangular or a curved edge shape, or a combination of the two. In this example at left, the triangular cut-out is for the Pathways design element. In the example at right, the curved edge cut-out is used in the Cathedral Window, Lattice Work and School of Fabric design elements.
As I was about to start my sixth hover-quilt I decided that it would be fun to post a step-by-step tutorial of my process online. It was a hit! Both pleasantly surprised and honoured that people were taking note of my work, it seemed that the time was right to offer my workshop virtually, free of charge to all of my followers on Facebook and Instagram. An invitation to participate was sent and I gave everyone a week to get ready, provided a suggested supply list along with fabric requirements and answered everyone's questions as they prepared. Participants were invited on Instagram to post their progress pictures to #imintohoverquilting.
I had never hosted a virtual workshop before, but I have confidence in my teaching skills and my willingness to try new ways of communicating online. The week was spent preparing pictures, written instructions and short video clips for each step so that I could easily guide the class. On the day of the workshop, I started posting at 9:00 am and finished at 5:00 pm. It was exhilarating to watch it unfold and keep up with answering questions to help shape the outcome.
The Three Zones of the Project Process
There are three distinct zones in three different colorways. Zone 1, in blue/green, combines two different design elements – Cathedral Window and Lattice Work. Zone 2, in the pink/orange colorway, highlights the Pathways design element.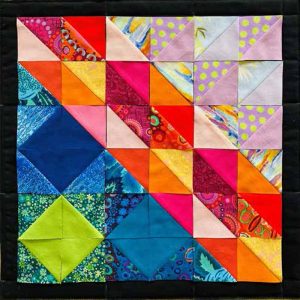 Zone 3, in the lavender colourway, highlights the design element called A School of Fabric.
Immediately following my workshop, I put out a short three-question survey asking participants the following questions:
Where in the world do you live?
Would you be interested in doing a virtual workshop again?
What would you consider to be a fair price to pay for this experience?
I tracked the first 50 responses and was blown away with the far reach that a virtual workshop provided. There were participants from all around the world – from India to Africa, most of the Canadian provinces, and dozens of American states!
As participants started making their blocks, they happily posted their photos to Instagram at #imintohoverquilting, sharing over 400 in total. Seeing so much engagement was my reward and made me feel very included throughout the process, and the gratitude shown towards me for hosting this event was heartwarming. Here are just a few comments I received to give
you a sense of what people were feeling:
Sutras: Thank you @petersquilts for the workshop. It's helping me get my creative mojo back!
Melanie_rudy_art: A fun day shared with friends. Thank you @petersquilts for such a well-organized day learning your techniques!
Eyeknowemily: Overall, this was a great exercise in thinking outside the box, which is very rewarding to the soul. Thank you for sharing your innovation!
Hafajojo: Thanks Peter for facilitating the workshop on hover-quilting. Love the technique!
Kendrastitches: This hover-quilt workshop was so great! First of all, I learned some new techniques that I can't wait to try again. Second, I live in northern Alberta, where I don't get opportunities to just register for a random workshop here and there!
Spiritinstitches: This is my kind of appliqué! Thank you @petersquilts, I am so grateful for you taking the time to share this quilting technique!Spiritinstitches: This is my kind of appliqué! Thank you @petersquilts, I am so grateful for you taking the time to share this quilting technique!
Dietz: Thank you for helping me learn a new technique and giving me a break from mask making; my hobbies are helping with the anxiety.
Dtsews: Love this technique, and fun change of pace in our 'stay at home' days.
Shawnainstitches: Thanks for putting this together for all of us at home.
Blue_dragonfly5: A modern twist on raw edge appliqué without fusible web. Thanks, Peter, for a great workshop.
Reading all the comments was so very rewarding and provided me with the encouragement to consider doing this again. A few days later I announced three dates for my Virtual Cityscape Improv Inspiration Workshop the following month, designed to encompass all of the unique techniques that made Cityscape, an award-winning quilt. All three sold out.
The feeling of creating community is humbling. I had put together 50 short videos along with pictures and text, and offered a two-day workshop, condensed into one very full day of online learning. The feedback was awesome and it was so heartwarming to know that I played a small part in helping people through the coronavirus pandemic, both at home and around the world.
A Note About the Author
Peter started making quilts in 2009, gathering cotton shirts from friends to cut into squares and rectangles and fell in love with the process of sewing them back together (shown above). In January 2017 he joined the Toronto Modern Quilt Guild; when he walked into that first meeting, he had never quilted a quilt. He became a full-time student of the craft and two years later designed and made Starring You. He's very excited to share his quilts, dreams and ambitions with Canadian Quilter readers and looks forward to interacting and entertaining you online! Check out Peter's upcoming Virtual Online Workshops on Instagram @petersquilts and visit his website.