You may have seen these super fine 80wt and 100wt threads on the shelves of your local quilt shop, but what would you even want such a fine thread for? As it turns out, they not only have a huge variety of fantastic uses, they will also perform better for certain techniques than a regular medium weight thread.
When it comes to thread materials, polyester is the heavy lifting king. That means you can get away with itty bitty 80wt and 100wt threads that are much stronger than they first appear! A very specific kind of polyester you'll find in the market is called cottonized polyester, which is a polyester material that has been treated to take away the stretch and most of the shine from the thread, making it easy to sew with and allowing it to hide significantly better in the fabric. Let's take a closer look at when you should choose these specialty threads and why you want to use them.
1 They Make Piecing a Breeze
This is one of the most common techniques to come up for any sewist, but most don't consider what thread they should use when doing it. As it turns out, the choice of piecing thread actually makes a big difference! A finer thread like 80wt on the top and bottom significantly reduces seam bulk, allowing the pieced fabrics to sit flatter and making it easier to match up quilt blocks and patterns. It's especially useful for foundation paper piecing. Because the thread is so fine, you can lower the stitch length to around 1.8 for added security, making it easier to tear the paper away without pulling the stitching out along with it.
2 Dense Quilting Without Showing the Thread
Both 100wt and 80wt threads are wonderful choices for quilting when you don't want the thread to show. A basic grey or beige does a fabulous job of blending right in with the fabric, even if the thread isn't a perfect colour match. For dense quilting or micro quilting, 100wt is an ideal choice. Since the thread takes up so little space in the fabric, you can get away with stitching close together and your quilt will still stay soft and flexible. After all, there's nothing better than snuggling up under a soft quilt that's quilted with an intricate pattern you love.
3 Capturing Details in Machine Embroidery Designs
Machine embroidery is often done with a standard medium 40wt thread, which works for most designs. However, consider an 80wt or 100wt thread when it comes to delicate, highly detailed designs, monogramming or small embroideries. These tiny threads make it possible to retain all those fine details in small or highly detailed designs that a regular 40wt embroidery thread won't be able to. The difference is especially noticeable when it comes to the flexibility and softness of lace designs.
4 Your New Favourite Bobbin Thread
Choosing an 80wt thread for your bobbin can greatly improve the tension and stitch quality in your sewing. This is especially important when using a thicker thread in the top, such as 12wt, as you really don't want to be putting that much bulk in your seams. An 80wt cottonized polyester will allow your stitching to sit flatter while staying strong enough to be used for pretty much any sewing technique.
5 Invisible Stitch in the Ditch
Most sewists know invisible thread as monopoly thread. You know, those translucent threads that often come in clear and smoke and resemble fishing line. However, these threads can sometimes still be seen under bright lights and can make fabric stiff and inflexible. Instead, we recommend using a 100wt thread. Simply choose a basic colour like grey or beige and the thread blends right in with the fabric. So even if you sew out of the ditch (we all have those days), it doesn't actually matter because the thread won't show up anyway!
6 Beautiful & Perfect English Paper Piecing
This simple hand technique relies on stitching together pieces of fabric wrapped around paper pieces. Because these pieces sit tightly against each other, a finer thread makes a big difference to how snugly they lay against one another, as well as how much the thread shows up. Once again, using a 100wt thread as opposed to a medium weight 40wt or 50wt thread makes a huge difference, even when using a basic colour that doesn't match exactly.
7 Hand & Machine Appliqué That Can't Be Seen
Sewing appliqué but don't want the stitches to be seen? 100wt thread has your back. Hand-turned appliqué sits flatter against the background and this finer thread is a master at disappearing into the fabric. You can even appliqué your pieces by machine using a small zigzag stitch without the thread showing up.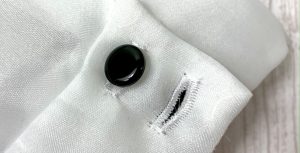 8 Beautiful Buttonholes
If you're sewing your buttonholes by hand, an 80wt thread is a great choice for stitching together the raw edges of your buttonholes before going over them with a thicker decorative thread on top. The fine thread disappears into the fabric so you won't see it holding the edge together. If you're doing buttonholes by machine, then you can use this thread to create nice tight stitches without the thread clumping up. Your buttonholes will have never looked better!
9 A Perfect Match for Sheer & Lightweight Fabrics
Chiffon, organza, and tulle are some of the many lightweight and sheer fabrics you'll find at your fabric store. They have a reputation for being a little more difficult to work with, but using a fine 80wt or 100wt thread allows the fabric to avoid becoming weighed down by the stitching and visible. Whether you're serging hems or doing construction sewing, these threads will give you much nicer results than a medium weight thread.
We hope this gives you some insight into where you can use these specialty threads in your projects, informs you about why changing your thread can make such a big difference, and offers some inspiration for using these unique threads! For a list of retailers or to order online, visit shopwonderful.ca.