We all understand a king-size bargello quilt featuring a central half-square-triangle star, designed to be seen from all sides of the bed is a large quilt. The quilt needs a large design wall, a large assortment of fabric and a large amount of each, plus batting, plus spools and spools of threads. Then, it needs a longarm quilter (thanks, Jane Goddard!). There are leftover strip sets. One can't throw them out, so they are made into pillow shams. The quilt weighs more than 10 pounds (4.5 kilograms), so there is no question the project was the epitome of working large! Guild members encouraged me to go for it.
Perhaps working large can be looked at in another way. What if it refers less to a physically gigantic, finished product and refers more to the size of a project? What if a three foot by five foot quilt begins with a commission to create an Alberta aspen forest in the autumn? The quilt will not be so big. Simple, right?
After taking a workshop with Susan Paynter on Saltspring Island, BC, I was familiar with, and loved, designing and stitching cedar trees and forests. Susan encouraged participants to go outside and examine cedars – to really look at them, touch them, smell them and get to know them. My stitched branches and fronds became so realistic, people actually thought they were alive and asked me how they stayed so green.
Alberta is an environment of aspens, not cedars. Their leaves turn gold and change to rusty orange as autumn nights get colder. How to make the aspen forest as realistic as the cedar one became a major challenge. Taking Susan's advice, I wandered through aspen forests in Alberta's Kananaskis Country, west of Calgary. I took hundreds of photographs and began drawings of the forest's autumn glory. I tried creating three dimensional, grey-white trunks with their distinctive black scarring. I tried to find a way to create leaves (hundreds of them!) in their autumn colours – whole and pliant while still on the tree and dried and disintegrating as they fell or lay on the ground. I tried to create a small, one foot by three foot test piece. The test quilt taught me a lot and the subsequent commission piece worked.
Working large may also mean making a series of modest-size quilts that, together, tell a story. My brother, Michael, and I grew up in a family where all the young cousins were expected to entertain at family gatherings – play the piano, sing a song, do a dance or write and perform a story or poem. My brother's poems continue to bring smiles to birthdays and other occasions. A retired physics professor, he asked if I could create an art quilt to illustrate his poem which explained the source of life – physics, chemistry and biology. A completed, small quilt illustrates each of the three verses, an exploding star, the food we eat and the beginning of a human life. The three images and the poem, itself, all come together on a single background.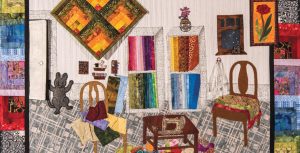 Then a mouse took over my life. A tiny mouse became an enormous project.
More than three years ago, at a meeting of Calgary's Quilted Mouse Guild, a number of us were admiring a children's book illustrated with images that could be, and were, quilted. Excitement grew about the idea of writing a story about a quilted mouse or a mouse who sewed. I couldn't get the idea out of my mind and that night began writing a poem—a poem about a little, grey mouse. Miss Mouse is unhappy because she and her home, "no more than a hole in the ground," are grey, drab and lacking colour. The story about her search for something colourful to take home to brighten her life unfolds as she sets out for town one night. Her adventures and her ultimate success (I won't spoil the ending) teach her an important lesson about life.
Guild members encouraged me to go for it -I set out working large once again. The original scope of the project was to create a quilted book with pages measuring approximately 14″ x 14″. As I began the drawings to illustrate each part of Miss Mouse's search, I realized the images needed a bigger canvas. I decided each of the 13 illustrations would have to be its own quilt, approximately 30″ x 40″. The poem was sent to readers: teachers, parents, grandparents, children's librarians and skilled poets. Their comments and suggestions strengthened the text. The drawings and early quilts were shown at guild meetings and to other creative art quilters in Calgary and Arizona, where Leon, my husband, and I wintered for a number of years. A few of the early, not completely finished, grey mouse quilts were tested at my Quilter of Distinction show at Heritage Park's Quilt Festival in 2017. Visitors, particularly children, loved the quilts.
As the series of quilts progressed, people urged me to have "the mouse" published. This is now happening! Frontenac House, an award-winning, independent Canadian publisher has taken on The Little Grey Mouse: A Fable in Fabric. Frontenac's reading list includes poetry and art as well as my previous children's book, Clarence's Engine. I am already being asked to bring the mouse quilts and the book to quilt shows and guilds.
All this is written to say, working large has many meanings in our wonderful quilt world.
The Little Grey Mouse: A Fable in Fabric, written and illustrated by Trudy Cowan, is published by Frontenac House and can be ordered from Alpine Book Peddlers.