Eat, Love, Sew – it's got to be the quilter's mantra – and it was the philosophy behind the Food, Glorious Food small quilt challenge put out by the Victoria Quilters' Guild last fall: make a small quilt 16″ x 20″ based on something you love to eat, and include the recipe that inspired it. Fourteen deserving quilts would be winners. And the prize? Inclusion in a 2021 calendar of quilts.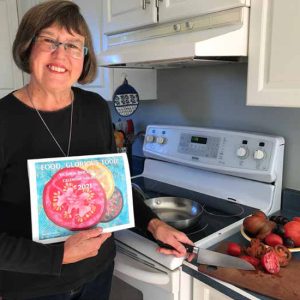 Pam Teasdale holding the Food, Glorious Food calendar
with her quilt, Heritage Slices, gracing the cover.
Victoria boasts a wealth of creativity in all of the arts so it is no surprise that the quilters' guild is rich in talent. Fun as the idea of a calendar was, it was not new to the guild. In 2016, in an effort to promote the art form, the Victoria Quilters' Guild held a small works challenge where members created 16″ x 20″ quilts to be shown at their December Social. During the social, members voted for their favourites and those with the most votes were featured in the guild's 2018 calendar. It was a huge success, with copies selling out completely!
Since that time, many members hankered for another small works challenge and a second calendar. After a lot of humming and hawing one of the guild's satellite groups, Designing Women, finally put their money where their mouths were, formed an organizing committee, and got the challenge off to a running start, developing the concept for the 2021 calendar and formulating the rules.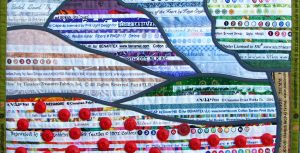 Valerie Boode's creative use of selvages resulted in her charming Strawberry Fields quilt.
Red button berries are the perfect finishing touch.
Guild members were challenged to create small quilts with reference to food appropriate for one of the four seasons of the year and to accompany their submissions with a recipe relating to the theme of their quilts. Quilters could create up to four works, one for each of the four seasons. Thirty calendar-worthy, food-related quilts were submitted and displayed at the guild's 2019 December Social, where members voted for their favourites. Fourteen works were selected, each with its accompanying recipe.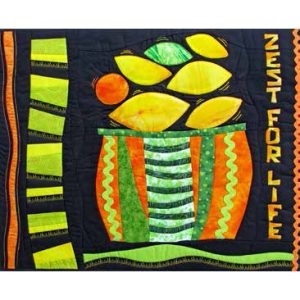 The April quilt, Zest for Life, by Kathleen Hildebrand
The quilts were delightful and surprising, artistic and whimsical. In a word, they were delicious! Some used pieced blocks, some appliqué, and subjects varied from abstracts to scenic landscapes and foodie vignettes. One wonderful submission even depicted a happy dog gobbling up her kibble! The recipes were equally mouthwatering, covering a full range of tasty temptations, from appetizers to desserts, and yummy treats for your four-legged friends. Can you say Caramel Cake with Bourbon-Pear Sauce?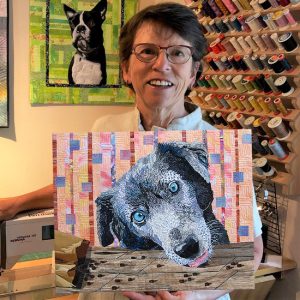 Anne Mathers showing us her quilt, Kibble Games. This happy pup is November's calendar girl!
Though universal in its theme, this calendar has an unmistakable Canadian sensibility; perhaps it's the food, perhaps the scenes. It is quite unique. And how often does one see a calendar featuring quilts, fabric art, and recipes? The combination makes it a keepsake that you will want to enjoy long after next year is over. Food, Glorious Food has been produced as the fruit of our collective efforts – quilters, artists and organizers – and the proceeds from sales will help fund the guild's various charities and future activities.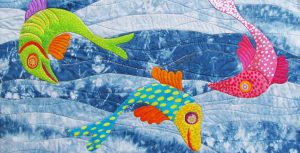 The 2021 calendar, complete with recipes, is available via the Victoria Quilters' Guild website. It would make a terrific gift for your favourite quilter!