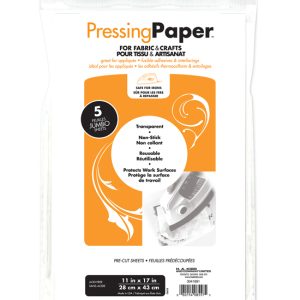 Heat n Bond Pressing Paper
Pressing Paper protects your projects from any accidents you may have with your iron. It is a lovely, transparent, reusable paper that prevents your project from scorching and your iron from accidental exposure to adhesive. Once you start using it, you will always want a sheet near your iron. Better safe than sorry!
Clover Hera Markers


Slim
With its small tip, the hera marker is easy to handle and best suited for marking and creasing on appliqué or reverse appliqué. But don't let its small size fool you. This marker can easily adapt to a large quilt and gives excellent markings for where you want to quilt. The best part? No residue! Use the pointed end to turn points and push out long seams and corners. The wide end is ideal for finger-pressing seams to one side when making quilts.

Spatula
This easy-to-handle tracing spatula allows you to place pressure when marking fabric. The big handle makes it easy to grab and hold when making lines or marks on larger quilts. It has the ability to leave a fine crease to show you where to quilt, either by hand or by machine. Comfortable and useful, it belongs in your quilting room.

Decorative Numbered Marking Pins
These pins from Unique Quilting are fabulous for keeping track of quilt blocks or fabric shapes when making a quilt that requires many pieces. They are numbered 1-20 on one side and have a perfect flat shape so you can mark your own labels on the other side. Fine, sharp point and extra-long 43mm (1¾") pins.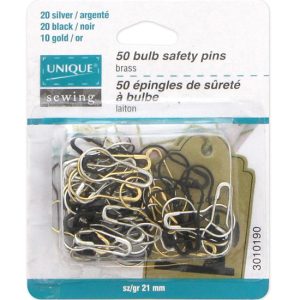 Bulb Safety Pins
Unique Quilting also makes these handy brass pear-shaped pins that are similar to a standard safety pin, but without the coil. They are so handy for hanging tags or markers from your quilt projects, such as temporary labels or price tags. They are discreet and fun to use yet work like a real safety pin.
Order these products online from your local sewing store.