QUILT ALONG 2023—BEHIND THE SEA-NS
Preparing for Quilt Canada 2023 is taking longer than anticipated when I first made the decision to travel to Halifax and hang out with my quilting friends.
In January, we lit the way for quilters to join us on an incredible journey with a fun quilt along, Sea You in Nova Scotia. (Everyone is welcome to join the quilt along!)
In February, I travelled to Florida with my hubby and a sewing project—I had decided to hand stitch the whole top with big stitches. Sitting on the beach for a week, stitching the sunny days away, I met some new quilting friends. It seems that stitching on the beach draws a fair amount of attention from a very special group of buoys and gulls.
I stitched and binged watched some great movies during the month of March. Of special note was Maudie, a 2016 biographical drama about Canadian folk artist Maud Lewis. It brought me much joy as I reflected upon the influence Maud's artwork had on this piece.
Due to limited wall space, I initially planned to finish with no border. So, by the time April rolled around I thought I was close to being done; but I was wrong. Turns out I did want to add the optional border, so I had lots more stitching to do.
To save my needle-pricked and sore fingers I bought myself an awesome new thimble that fits like a glove, and I set to work.
Until I was once again stumped and found myself in a bit of a quandary.
When I made the big (life altering) decision to add the border, I forgot to remember that I had already batted and backed the five-unit quilt. How in the world was I going to get the border to fit properly? This made me quite anxious, but luckily—and thankfully—some very helpful Crocus Quilters guild members suggested I simply "add the borders to the existing piece" with "the quilt-as-you-go technique." It was a wonderful idea, and it took some work (and a fair amount of stitch ripping), but it ultimately worked to my satisfaction. The border and back are
beautifully set in place, and now I have learned experience to share with you, my dear quilty friends: "An hour of planning can save you 10 hours of undoing!"
I can't believe how fast time is flying by. May is the next page on the calendar. I'm really looking forward to visiting Halifax with my mum. We are ready for a Lobster Feast with all of our quilty friends.
I know it's going to be a whale of a good time. I should have just enough time to get this quilt finished and packed along with my comfy walking shoes and quilt show attire.
It has been a lot of fun organizing CQA/ACC's 2023 Quilt Along. Every morning I check the Canadian Quilters' Facebook projects page posts to see if there are any new photos of participants' blocks. Let me just say how thrilling it is to see each new version presented there.
I'm so looking forward to Quilt Canada 2023, seeing all of my quilty friends, viewing the National Juried Show and special exhibits, attending the workshops and lectures…and I plan to bring a spare suitcase to gather all my retail therapy.
#SeaYouinNovaScotia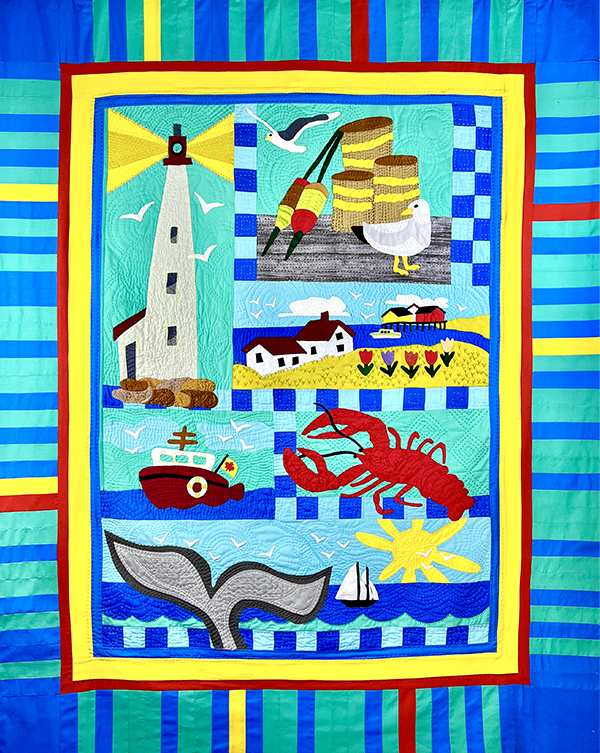 Dawn Piasta's version of her design for the 2023 Quilt Along.

Background image: Pink Blossoming Garden by Laura Gates. Laura and other longarmers from across Canada chat about thread choice and preparing a quilt for longarming in the summer issue of Canadian Quilter.