These Wonky Stars make for a fun and easy holiday project. Suitable for novice and experienced quilters alike, it comes together quickly. It makes a wonderful gift, too! These stars can be very addictive so we'd totally understand if you wanted to keep going and make our Candy Cane quilt.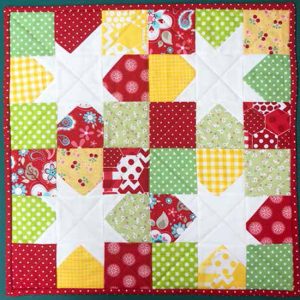 Scraps are an excellent choice for this project – the more, the merrier. Use a variety of holiday prints or create seasonal variations using batiks, Civil War prints or florals, etc. Choose fabrics with prints of differing scales and that have a high contrast with each other to ensure that the white stars stand out. If you prefer to use only reds and greens, adjust the quantities that you cut for the blocks. Finished size: 18″ x 18″.
Candy Cane Quilt
To make this cozy throw, make 24 star blocks using the instructions for the Table Topper and add in red and white candy cane blocks. Finished size: 54″ x 72″.
Download the Twinkle Table Topper instructions and have fun making these wonky stars.