You are invited to join us for a one hour Zoom webinar presentation by Justin Ming Yong on Wednesday, December 7 at 7 pm ET.
---
Description of Presentation
Traditional Quilting as Contemporary Art

I'll be speaking about my practice of quilting. The ways that I create my designs and incorporate some traditional styles and techniques to a balance both worlds. I do want to highlight that breaking free from tradition or rules in art isn't always a bad thing because it's ultimately how I managed to carve out space for myself in this medium. I'll be going through some of my past works and discussing the thought process and decision making that brought me to the final product.
About Justin Ming Yong

Justin Ming Yong is a Canadian multidisciplinary artist working predominantly in textiles, most often adapting traditional quilting techniques into contemporary displays of colour play and dysfunctional shapes to disrupt a conventional medium. Yong looks to uncover the deeper connections between object, its perceived image, and material construction. He considers textiles to offer a degree of versatility by incorporating elements such as touch, movement, and the object's interaction with the environment it's stored in. His work aims to explore the relationship between fibres, found materials and structural composition to create pieces that are layered, multi-dimensional, flexible, and tactile.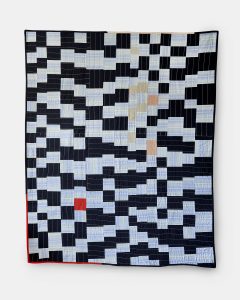 CQA/ACC members can register for this event at the reduced fee of $10 + tax (regular price for non-members is $15 + tax).