Sometimes life takes us full circle. My experience with sewing is one of those circles. I learned to sew at age four. When I was seven, my Mom agreed to teach me to use her old Singer® model 27 treadle. It did not have a reverse and, of course, no zigzag. I sewed on that machine until I was 19.
With my first pay cheque after college, I bought an electric Omega. The machine was amazing! It not only had zigzag, but reverse, too. The Omega® became my primary machine for many years until it was, essentially, worn out.
Developing an eye for old and antique machines started in May 1996. At a yard sale my husband, Jake, and I discovered an antique doctor's case under a bench with a small black sewing machine inside. Included was a red vinyl pouch of attachments which contained a ruffler. I used a friend's ruffler on curtains and thought I would love to have my own.
When I took the machine out of the case to check it thoroughly, a woman came by and said: "That is a very good little machine and you can still get parts for it." We bought the machine for $15. There was no manual with the machine and we couldn't thread it properly, so I asked for advice in an online quilt forum.
Our post generated a flurry of reactions. The machine is a relatively rare, free-arm Singer Featherweight. Since Jake is always interested in things mechanical, he soon started servicing this 222K and became fascinated with the mechanics of older machines. From then on, we took second looks at sewing machines we saw at yard sales and our fascination with these old beauties deepened.
I use my 1951 Singer 15-88 sewing machine pictured in the header image for all my quilt piecing. It is capable of dropping the feed dogs to do free-motion quilting on it. This machine has a special Centennial badge because it was made in Singer's 100th year as a company.
At first, we picked up almost anything that looked old or interesting—the steep learning curve began. On the Internet we discovered several sites dedicated to collecting and restoring these timeless beauties. It did not take long before we had to make a choice; buy a bigger house or focus our collection. We decided to focus our collection on Canadian-made machines from the 1850s to the 1920s. We collect some machines from the 1950s for actual sewing. We found a Singer 27 treadle, exactly like my Mom's machine, at a yard sale. When I sat behind at the machine, it was like riding a bike – you simply don't forget how to use a treadle!
This Singer 27 treadle is the exact model of machine that my mother had all her life. I learned to sew on this model when I was seven and sewed on it until I was 19.
Since 1989, most of my sewing is related to quilting. By the mid-1990s my Omega wore out, so I gradually tried out machines being added to our collection. Eventually, I settled on an almost pristine Singer 15-88 treadle made in Singer's Centennial year, 1951. It became my primary sewing machine. It has the round class 15 bobbin system and holds more thread than the long bobbin of my Mom's Singer 27. It also has the capability to drop the feed dogs and does incredible free-motion quilting— one stitch at a time. Eventually, I acquired a vintage Bernina® 830 which makes a great satin stitch and free-motion quilts beautifully.
For our genuinely antique sewing machines, we discovered there were about 20 sewing machine manufacturing companies in the history of our great country. Some of the more common names are Wanzer® of Hamilton, New Williams® of Montreal, Raymond® of Guelph, Abbot® of St. Catharines, Wilson, Bowman & Co.®, also of Hamilton and Singer of St. Jean, Quebec.
Jake and I continue to search for, and restore, old machines. We love to go to yard sales, antique shops and thrift stores to find additional models and various attachments for our collection. There are approximately 150 machines in the house and the garage. When we acquire another one, we rotate the stock. I am still dreaming of a Bernina treadle.
My Singer 99 has a special badge from the Canadian National Exhibition in 1939. It is a very common machine, but this special badge is quite rare. Another exciting find!
When summer holidays arrive, we turn the garage into a workshop where I have a sewing station set up to test machines Jake services. Jake is a high school teacher, working on sewing machines is a great stress reliever for him. The machines give me a great excuse to work on my quilt projects. Our collection blossomed to a wonderful hobby we enjoy together.
Through our search for machines and information, we met many interesting people and passed on love for a good, well-engineered, all metal sewing machine to many others. Our home is decorated with sewing machines and related collectibles in almost every nook, cranny and shelf. Sometimes my imagination wanders over our machines and wonders what projects they produced in the past. The stories the old machines could tell us! Their earliest projects could, easily, be over 100 years old. No doubt, many more quilts and projects are still in their future.
This quilt is made with exchange blocks from Canada and all over the US using attachments that come with our people-powered sewing machines. This exchange was hosted by the TreadleOn group. I hand quilted the centre block and added some hand-tatted lace found in a sewing machine drawer. It was too short, so I added yoyos to finish it off. On the right, a collection of antique oil cans.
The New Williams treadle on the left is in a very fancy parlour cabinet. When I saw this cabinet at an auction, I walked right by it thinking it was a little pulpit. Then I saw the double top and opened it up to find this made-in-Montreal machine. The Raymond High-arm treadle on the right was made in Guelph, Ontario.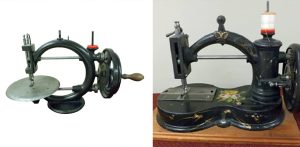 On the left, a hand-crank JC Abbot® machine made in St. Catharines, Ontario and on the right one made in Toronto, Ontario from the late 1860s; the decals are all hand painted.