We sat with stitching in our laps and discussed the speed in which the days, months and years seem to pass. It was a Friday – where had the week gone? Have you ever thought the same? In all likelihood you have, and maybe had, the same conversation over breakfast, lunch or during your stitching groups.
Fast-forward seems to be the most common term when it comes to a description. UFOs (unfinished objects) top to-do lists, while new projects lay  waiting nearby or in sketchbooks. What makes us feel so rushed? I look outside my window and something strikes me.
The snow is falling, I have a beautiful bouquet of tulips on my mantel and here I sit writing to meet the spring deadline for the summer edition of Canadian Quilter. Three seasons demand my attention all at once. Isn't that crazy? Maybe that is the reason why I feel so rushed. My sewing basket is not filled with anything wintery, like snowflakes or mittens. It holds the pastels of spring and a little pattern I am working on with tulips and  bunnies. Even as I look at the project, my mind shifts to watermelons and honeybees. Okay, I need to slow it all down. But how?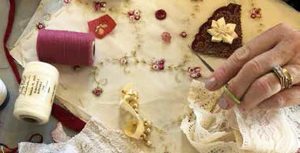 I looked at my to-do list and at the top I read, "Complete slow stitching wall hanging." Suddenly, I had an ah-ha moment, as Oprah would say. This past autumn I taught a workshop, The Slow Stitching Movement. The participants were asked to bring in vintage linens and were given access to three tables topped with antique, handmade doilies, tablecloths and up cycled, repurposed fabrics. The project choices were to create a pillow, journal  cover or wall hanging. After the PowerPoint® presentation, the group talked about the history behind each special piece brought in. There was a lovely christening gown made by a great-grandmother, worn by each child in the family. There were pieces of tatting, crocheted doilies, table runners edged in exquisite lace and a tablecloth which graced a table during many special occasions. Each piece was held in appreciative hands. By the end of the day, the pieces would be given a second life – enjoyed and admired, rather than folded away in a drawer.
The future stood still that creative day. As the class worked, stories were shared about the past. We did not think about the onslaught of three  seasons all at once. We did not rush through the day. We enjoyed every moment, as well as the talents of the creative individuals before us. The Slow Stitching Movement is quite a newly-coined phrase. Hopefully, it will draw our attention long enough for it to spark a desire to slow down. As people downsize, it is often the once-cherished linens that head to the flea market first. These linens go into baskets and are often sold for only a  few dollars, if they are sold at all.
Here is a challenge for you. Find a piece of vintage linen. Admire it. Give it a hand wash in cool water. Hang it to dry. Join me in an upcoming issue of Canadian Quilter for a surprise project!
Kerry Karram,and her daughter Mikaela operate Wool Penny Rug Supplies in North Vancouver, BC.