Following an evening lecture at Quilt Canada 2017 in Toronto, Linda Schmidt, Terry Rowland and Judy Kelly were sipping on glasses of wine. Terry and Judy recently met and were getting to know each other. Of course, quilting was the main topic of conversation.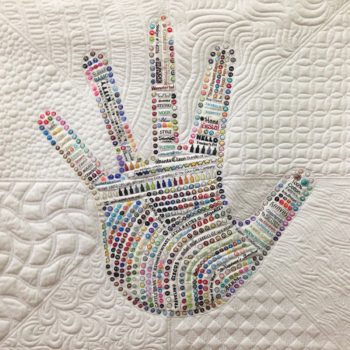 Left hand of Terry Rowland
The discussion, eventually, led to a selvage quilt the women viewed hanging in the National Juried Show. This entry was of interest because all three quilters had a passion for saving and collecting selvages. Soon, the idea of a selvage challenge was born! With more discussion (possibly more wine), ideas flowed and parameters for a triptych were established.
Right hand of Judy Kelly
The women decided to make their own handprint and to name the triptych Left-Right-Left. Terry would do the left hand, Judy the right and Linda the second left. The pieces, placed on a white background, would measure 24-inches square. The triptych background, divided into sections with free-motion fills, would be completed with a dark binding.
Left hand of Linda Schmidt
The ladies went their separate ways – Terry to Lousana, AB, Judy to Arnold's Cove, NL, and Linda to Calgary, AB. All three made selvage projects previously. Terry and Linda were accomplished longarm quilters and looked forward to creating with selvages. The challenge for Judy would be quilting the background fill. The quilters created a closed Facebook page to chat and share progress.
The creative process was fun, to say the least. The outline of a hand was traced on paper with an attempt to capture all lines and creases, then enlarged and placed in the centre of the white background. Selvages were selected, arranged and fused in place. Wedding-veil tulle was placed on top of the hand section and sewn in place, catching all selvage edges. Sharp scissors were used to closely trim edges, so they would not fray. The background was divided into sections and quilting was an individual choice. Finally, each piece was finished with binding.
Left Right Left was a fun challenge – so much so that there may be another one in the future for these ladies.