Amanda McCavour loves using thread and stitching as an art form. In her artwork, Amanda uses a sewing machine to create thread drawings and installations that take over large spaces and create environments filled with thread. By sewing into fabric that dissolves in water, Amanda can build up stitched lines on a temporary surface. The crossing threads create strength; when the fabric is dissolved, the thread drawing holds together without a base.
How long have you been an artist?
I've been an artist since I was a child. I think most children are artists—they are so playful and open to experiences and making. When I was a kid, I was often drawing at my desk or making things out of whatever materials were available. For as long as I can remember, I have been drawing and crafting things out of paper, glitter, glue, plastic beads and string. This is my foundation for an interest in materials and making.
It continues to interest me that folding and cutting paper can transform a blank sheet into a snowflake, or knotting embroidery floss can create a patterned bracelet. It is these slight shifts in materials that still drive me to make work.
When did you start working with fibre?
I came to using sewn lines through an interest in drawn line. In 2006, I was taking a drawing course at York University with Professor Michael Davey – drawing was defined, simply, as line. I thought that threaded line would be interesting to use because it was similar to drawing on a paper, but had more of a presence. Finding links between the fibres of the body and the fibres of cloth sparked my first series of work with embroidery. This shift in materials, from lines made on paper to embroidery, marked a turning point in my practice. In this same class, I thought it would be interesting to make a drawing that existed only out of thread, with no base, but I needed to find a way to do it, which is where my interest in the medium began.
I didn't learn the technique of working with water-soluble fabric. Instead, I determined a visual problem or challenge for myself, which I wanted to solve. My questions were: how do I make a piece that exists only out of sewn line? What materials would allow me to do this? How much thread is needed to hold a work together? Later on, I asked myself: what does the material mean and what is its relationship to the image?
My interest in line is how I came to making the work I create now. I always loved drawing. While thinking about line, in its simplest sense—as line—I began to think about how threaded line is interesting because it appears flat, but it is actually a sculptural line.
As an artist, what attracted you to fibre?
So many things! I am interested in the properties of thread; its delicacy, how it can be a line. I'm interested in how embroidery relates to touch and how my work is an accumulation of time and material to create a final product.
Transparency I like thread's fine nature. Creating images and installations out of embroidered parts allows me to create ephemeral and transparent pieces. Both are in a space, but seemingly on the verge of not being there. They are relatively light, which allows them to move slightly with the air currents in the room. The movement adds to the installation.
Touch I like how thread reminds us of touch. We feel fibres often – they are right next to our skin when we wear clothing. When I use an embroidered image, I like how this thought might be in the back of people's mind: looking at an embroidered piece also becomes about this memory of touch – of touching something soft.
History I like the history related to fibre. Although my pieces are not functional, I like how they still carry with them a reference to functional things, such as napkins, blankets, pillows, hankies or gloves. Some of these things relate to covering the body, to comfort in the home, to cleaning up messes. I find all of these associations to be very interesting.
Strength I like how strong fibre is. Although my work appears to be quite delicate, it actually has a lot of strength created through intersecting sewn lines. The raveled strength of the work is quite surprising. I'm sure I will probably find more reasons to be interested in thread as I keep working with it.
Flexibility For practical reasons, I like how I can roll and pack up pieces made from fibre. Most of my installations can be brought as carry-on baggage on a plane – it packs down very small. Almost like breathing in and out, these pieces expand to fill whole rooms and then contract to fit in a small Rubbermaid® bin stored underneath my sewing table.
Possibility It seems the possibilities for fibre are endless and the role fibre might play is one of expanding and broadening boundaries between art, craft and design.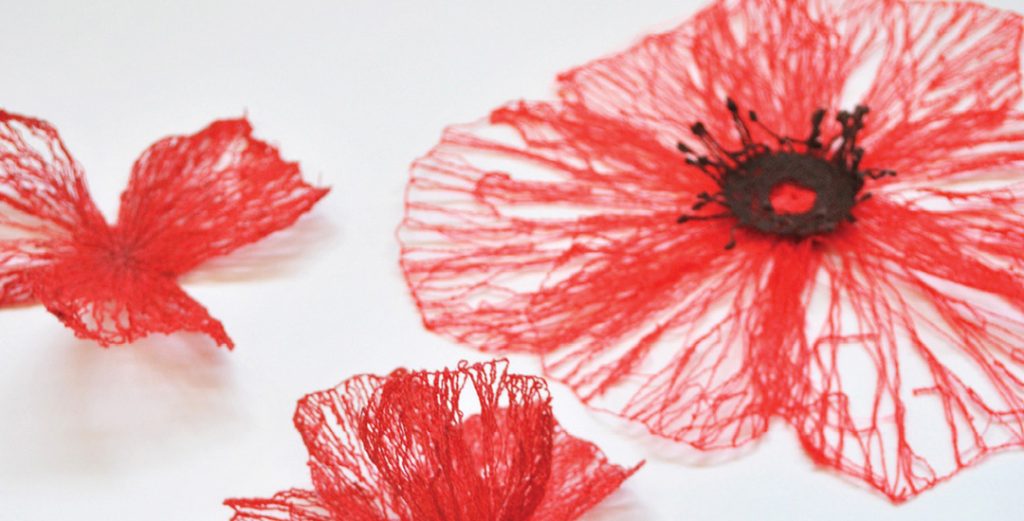 How do you approach a new design?
All of my designs start with both drawing and research. I'm often sketching on paper before I start stitching. I look at books and take photos as part of my research, often collecting images and keeping them on my studio wall. I don't keep a sketchbook, but I have binders of drawings and sketches I keep. I draw things both small and large to explore scale and I use different colours.
Next, I move to the testing phase of my process, where I actually stitch things at the sewing machine. This testing phase is exciting because I have to change my drawings to fit the process and structural challenges of working with water-soluble fabric. I heard someone say, "to make is to know," and I think this comment is very true. The testing phase is important because sometimes I don't know what will happen when using thread. I like the testing phase a lot. I can make changes and try different things. I can embrace my curiosity and ask the question, "what if?". Sometimes it can be hard to move beyond testing, because it is a lot of fun once I get into the rhythm of it.
Once I've tested and finalized the design, I move to the production phase of the project. At this step, I'm making many of one unit or moving to a larger scale. For this part of the project, it is important to have snacks, good lighting and some podcasts or books on tape and good music to keep me going. This phase can often take months (or years), so I often manage a couple of different projects at a time to keep work from getting too monotonous. However, there is something enjoyable about getting into the groove of a project and seeing how the passing of time can develop something small into something much bigger!
The next part of the project is finishing. Cutting threads, pressing pieces and packing them for installation.
Installing pieces is often the final, and most challenging, part of making work. Each space is different, each gallery or museum has its own challenges. Installing often takes over a week. Physical work, like standing for hours with hands above my head tying small knots. In the past few years, I've learned to ask for lots of help. Again, good music and snacks make all the difference!
Do you have creative challenges?
Yes! I have lots of challenges in the studio and sometimes I think these challenges are just impossible—and on better days I think these challenges are a way to create work. I always like a good assignment and sometimes I make these up for myself. Assignments help me arrive at actually making pieces. If I say, "I can do anything in the studio today," I find I often don't do much. Limitations, or creative challenges, can be a way to have boundaries to help create a framework to work within.
For example, a few years ago I was thinking about how much of my work is flat. I thought this aspect of my work would be a good way to challenge myself. I decided to try to make something more sculptural with my embroidery process. This resulted in some 3-D boxes made folding flat embroideries with works formed with heat to create rounded shapes.
In my studio, this year I'm challenging my work using scale. Most of the time, I make smaller pieces repeated hundreds (or maybe thousands) of times. Now, I'd like to challenge myself by making pieces much, much larger. My current question is: what if I make a piece six feet tall? I'm not sure how it will go. Wish me luck!
How will yo be participating in Quilt Canada 2019?
I will be teaching two workshops. In the first workshop, Ribbon Scarves with Machine Stitching, students will learn how to use water-soluble stabilizer and create a wearable ribbon scarf held together with machine stitching. We'll use my favorite material, Sulky® Water Soluble Stabilizer, to create work full of beautiful ribbons. Ribbons may include small strips of fabric or scraps from other work. This class is fun because we play with texture, colour and layering.
In the second workshop, Landscape Scarves with Machine Stitching, we will be thinking about places and environments using colours, textures and their emotional qualities. Each project will be highly individual. Whether it is the forest, the seashore or the night sky, you will be invited to bring materials that might communicate that place: yarns, ribbons and thread. The work created will have a dual purpose, acting as both a wall hanging, viewed from a distance, and a wearable piece, wrapped around the body, enveloped by the feeling of the landscape's texture and warmth.
I made this scarf based on a forest. I chose to use loosely spun green yarns as my base, then layered different threads to mimic the dense texture of the forest floor. I chose different shades of green to imitate light passing through the forest canopy on a sunny afternoon.
What path led you to become a teacher?
I think making is one of the important tools we can use to shape and understand the world around us. Being an artist is a way for me to express my ideas and thoughts. I think teaching is another way for me to share and relate to those in the world around me. For me, making artwork is about communicating and exchange – teaching is also about these two things. They go hand in hand.
Teaching is directly related to my studio and professional art practice. The problem solving, creativity and exchange in the classroom feeds directly into my own work. It is energizing to make work with others. I find it to be a welcome change to some of the alone-time in my studio. There is a spark created while working with others which I can take back to the studio with me.
What is your favourite part of teaching?
My favorite part of teaching is seeing how individual each student's approach is to the process. One might think learning techniques with machine stitching and water-soluble stabilizer would produce similar, finished works, but I am always amazed how each is so different. It excites me to see individual expression and watch how others approach the process of making.
Sharing has become an important part of my art practice. I was told early in my career that sharing my approach and techniques would be better than keeping them secret. This advice fed me, as both a maker and a person. It is incredible to see participants in a workshop take techniques in their own direction and use it as a way to express themselves.
What advice do you share with first-time workshop students?
This is my first time at Quilt Canada! I'm excited to meet new people and see what everyone makes!