Undoubtedly, quilters read and enjoyed the member quilts shown in the Spring 2020 issue of Canadian Quilter in the Get Inspired showcase  Empowering Words. Such a variety of methods were used to add words to quilts: improvisational foundation piecing, appliqué, pieced letters and  quilting handwriting. Many examples of improvisational letter design were also shown, but this author (of course) was encouraged to compile and  experiment with ways Electric Quilt 8® (EQ8) could be used to design quilt projects with text.
There are four main methods to create with text in EQ8:
• Using the letter fonts from the Block Library
• Importing embroidered words into a project
• Using the fonts installed on your computer to create text, and
• Importing handwriting as a tracing image then creating a motif.
Block Library Fonts
Block library fonts include regularly-pieced block sets and foundation-pieced sets. The 'S' shown here is a pieced block, but the beauty of this  block, and all EQ8 blocks, is that they can be used as is or be edited. Imagine you want to make a large baby quilt with this single letter. Simplify sewing by adding lines to angled parts of the letter and make ends and curves into half-square triangle units. Then add more elements to the  border and colour it to suit your fabric stash. This block starts out at seven inches, however, as always in EQ8, the design can be adapted to print out a rotary cutting pattern to a 35″ or 42″ baby quilt.
The foundation-pieced letter sets can also be edited. All five sets are versatile. Some of the characters can be edited to create interesting appliqué motifs!
Recently, the EQ8 "Ribbon" alphabet was used to create the centre of a quilt. In this project, the program helped add blocks that would create the  completed circle. Layer 1 was designed with four Drunkard's Path blocks, then the letters and filler patches were drawn on Layer 2. Once these were all sewn together, the outer corners of the quilt were printed on paper, cut out of the fabric and then pieces could be stitched together the  same way all Drunkard's Path blocks are sewn.
EQ8 and Embroidery
Many quilters have embroidery machines and want to incorporate embroidery into quilts. Some bought EQStitch®, an EQ7® plugin for designing  and digitizing embroidery and machine appliqué. Even without this plugin or EQ7, any embroidery design bought or created may be added to  Layer 3 of a quilt project. It is key to know that EQ8 will import designs with the .exp (Melco) suffix. If you do not own embroidery design software,  install software to export the machine's designs to the .exp format before adding them to a project. For example, with a Janome® embroidery machine, all designs will end with the suffix .JAN. There is free software on the Internet that will open any design (Mac® or Windows®) and save it  as an .exp design. This software is called TrueSizer™ and is a product by Wilcom®, a company which developed several industry-standard  embroidery programs.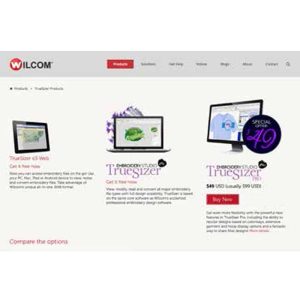 Once the file is converted, import the embroidery into the Embroidery Sketchbook. After placing it on Layer 3 of the quilt design, use the Thread  Tools to colour the embroidery appropriately.
Using Computer-installed Fonts
If the letter sets in the Block Library do not suit a quilt project, apply any font installed on your computer and print it out as an appliqué. Before  beginning this process, it is useful to audition fonts. Recently, a baby quilt project needed the letter "S" for the back of it. After typing out a list of  possibilities, the Ravie font seems to be the best fit. It is wide enough, distinct and may work well with a fringe sewn around the edge.
Importing Handwriting
One project planned for a while is personalized pillow covers for relatives. They are seen in all the home decor shops and online, but the group wanted to make some that were more meaningful to recipients. A conversation with a close relative resulted in her choice of words she would use for her daughter's pillow cover. She emailed photographs of the words 'Imagine' and 'Believe', using her beautiful calligraphy skills. These photos were scanned and imported into a new appliqué motif design. It takes time, but each letter can be traced and printed out at the desired size.
After a few attempts, the letters were printed, applied to a fusible stabilizer and cut from Ultrasuede™ to fuse onto a Christmas background. They are now ready for sewing and quilting!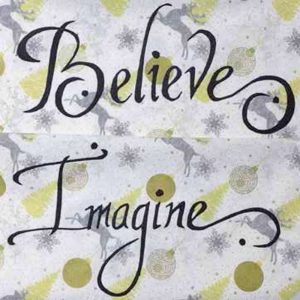 Do you have any questions or suggestions about these ideas? Perhaps you have used text in EQ8 and would like to share photos of your project? Let us know. Lauren would love to hear from you.