Traditionally, the quilts from the annual challenges hosted by the CQA/ACC and our partners within the Canadian quilt community are displayed at Quilt Canada, where visitors to the show are encouraged to vote for their favourite entries. Unable to host a live event in 2020 due the pandemic's social distancing requirements, we shifted gears and took the show and voting online last fall.
These are the winners in several categories, but it's just a sneak peak of what you will find online in our Canadian Quilt Gallery. Take some time to enjoy viewing all of the entries. Our galleries contain almost 1,000 inspiring photos of quilts and quilters from across Canada.
GATEWAY TO ADVENTURE GUILD CHALLENGE
In anticipation of travelling to Edmonton, AB, for Quilt Canada 2020, CQA/ACC member guilds were invited to participate in this challenge by asking their members to create wall quilts which reflected the theme Gateway to Adventure. Each quilt was to include a visible amount of Kona's Jungle and three additional fabrics on the face of the quilt. Guilds then selected one entry from those completed by their members to represent them in this virtual show.

Are We There Yet?
by Joan Dupuis-Neal
Manitoba Prairie Quilters Guild
TECHNIQUES Machine piecing, hand appliqué, hand embroidery, domestic machine quilting
STATEMENT Hand appliqué is a technique I use whenever appropriate, and using stitchery to enhance a design appeals to my love of detail. The piping helps to frame the picture. The use of an Ombre fabric allowed me latitude in incorporating the elements I wanted to complete the picture.
TRY-A-TRIAD INDIVIDUAL MEMBER CHALLENGE
Members were invited to participate in this challenge to get in touch with their inner modern. Using only red, yellow and blue, they were encouraged to play with the design elements common to the modern quilting movement. We realize that the image of the winning quilt may evoke strong emotions and responses, as it must have done to win the Viewer's Choice award by a large margin. Works of art have often reflected the culture and events of their times, and this quilt is no exception.
Red, White & Blue
by Claire Franceschetti, Toronto, ON
TECHNIQUES Reverse appliqué
STATEMENT White represents innocence and purity. My grandmother loved to use bleach on her toughest stains. "A good drop brightens most dulling whites and tough stains need a good scrubbing. But be careful – too much and the fabric will start to fray and break down.
DESIGN INSPIRATION An original quilt inspired by today's news in the USA.
The display of this quilt does not imply the support nor promotion of the person depicted. CQA/ACC does not promote any political person or party, nationally or internationally.
TRENDTEX CHALLENGE
The annual TrendTex Challenge is
a time-honoured tradition and fundraiser for the Association and always enjoys a lot of participation by members. Fittingly, the theme was 2020. Entrants were invited to create a wall quilt using five specific fat quarters of fabric donated by TrendTex Fabric, and then donate their wall hangings back to the organization to be auctioned off. This year, $5,000 was raised from kit sales and our first ever online auction. Christa Marcotte's winning entry is a testament to both technique and squeezing every little bit from your fabric!

Star Gazing
by Christa Marcotte
TECHNIQUES Paper pieced
STATEMENT I always like a good challenge. My guild gasped when I said, "I think I can get a Pineapple Star out of this kit." Give me a challenge!
CREDITS Pineapple Stars by Sharon Rexroad.
SUZI-Q YOUTH CHALLENGE
Suzi-Q Textiles donated the fabric for the 2020 Youth Challenge. Each participant was sent a 10-inch piece of the challenge fabric and asked to create a wall hanging inspired by the theme My Next Great Adventure, using any style of quilting – art, traditional or modern. All or part of the challenge fabric was to be included on the face of the quilt. An opportunity for young quilters to experiment and try new things, the use of embellishments such as beads, embroidery, fibers, ribbon, paint, crayon, etc., was encouraged. Entrants were divided into three age categories: 5-9 years, 10-14 years, and 15-19 years. Here are the winners.
5-9 YEARS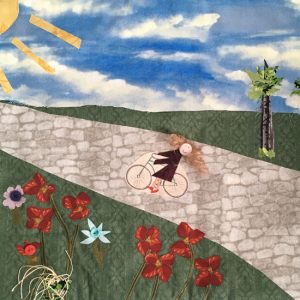 Biking on a Sunny Day
by Elsa van Haarlem, Ontario
STATEMENT My next great adventure is going for a bike ride on a sunny day. I learned how to ride my bike last fall and I'm excited to get exploring again. Biking is fun and healthy for your body. I love flowers too, so I'm going to look for flowers on my adventure.
DESIGN INSPIRATION The night I learned to ride my bike without training wheels.
10-14 YEARS


Hiking Buddies
by Karis Hunter, British Columbia
STATEMENT I was inspired by a week-long hiking trip I took in northern BC, past Fort Nelson. It would be nice to go back! Both of my dogs passed away in the last year and I wanted to remember them in this quilt.
15-19 YEARS

Becoming a Vet
by Kailin Reschke, Alberta
STATEMENT I chose to do this quilt because I want to become a vet. I am almost done high school so my next great adventure is becoming a veterinarian.
DESIGN INSPIRATION My dream job.