You are invited to join us for a one hour Zoom webinar presentation by David Owen Hastings on Wednesday, March 15 at 7 pm ET.
SOLD OUT
---
Description of Presentation
Indigo Dyeing in Japan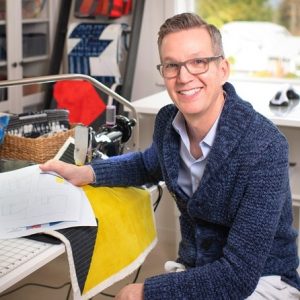 In this talk, I explore how my love of Japanese culture, travel, textiles and "blue and white" came together in a fantastic journey to Japan. In this textile talk, I take you virtually with me to an indigo dyeing workshop in the country near Mt. Fuji. We will explore two kinds of Japanese indigo dyeing processes that use resist: katazome (paste resist dyeing using stencils) and shibori (bound or stitch resist dyeing). I'll talk about how my particular modern design approach is influenced by Japan, and how I like to incorporate these traditional fabrics into modern quilt compositions.
Besides thoroughly exploring katazome and shibori techniques, I will also give a virtual trunk show of my work, including an indigo-inspired quilt that I designed, as well as paper-based stitched artwork that I created by dyeing paper in indigo using shibori techniques. We'll also make brief forays into Japanese architecture, cuisine, and shopping for fabric. By the end of the talk, you may be inspired to try some dyeing yourself, or maybe even take a journey to Japan in the future.
About David Owen Hastings

David is a quilter, graphic designer, print and textile artist, and a former President of the Seattle Modern Quilt Guild. He creates contemporary art and modern minimal quilt and textile designs. David's creative approach to modern quilting has led to a busy schedule of workshops and lectures on quilting, branding for artists, art and textile techniques.
CQA/ACC members can register for this event at the reduced fee of $10 + tax (regular price for non-members is $15 + tax).