A Celebration of Quilting in Canada
We are excited to offer a variety of quilting topics in the sessions for this virtual event.
Below on this page you will find the descriptions the sessions being offered, June 17- June 19, 2021. For an overview of the event, please check out the Event Schedule or click here for  the printable pdf calendar.  All times are listed in Eastern Daylight time, click here for the Time Zone Conversion Chart.
There are two main types of sessions being offered at this online event, Virtual Webinars and Virtual National Juried Show (NJS) Tours.
The NJS tours, always very popular at our in-person Quilt Canada events, have been taken to another level this year. These tours are unique to our online event and are sure to be both entertaining and informative.
Admission Information – Registration is now closed
The admission fee (Entry Pass) for the conference is $10 + tax for all. This fee is required for everyone to enter the virtual conference site.
Each individual session is priced at $10 + tax for members and $12 + tax for non-members.
For greater savings you can choose to register for the All Access Bundle (This includes registration for all 12 Virtual Webinar Presentations at one low price of $80 + tax for members or $110 + tax for non-members).  The Virtual NJS Tours Package (Registration for the 11 English Tours plus one French Tour is also one low price of $80 + tax for members and $110 + tax for non members).  Note:  all Virtual Webinar Presentations and NJS Tours will be recorded and available – only to paid registrants – until June 26
Take a preview tour of the virtual Quilt Canada conference site by clicking here
Have a question about registration?  Click Frequently Asked Questions or contact Janet Kasper at 1-877-672-8777 ext. 2 or by emailing cqaregistrar@gmail.com
---
Ready to find out more details about the sessions to plan your registration?
VIEW SESSIONS
ALL PRESENTATIONS AND TOURS are in live time – Eastern Daylight Time.  If you paid for a session, a recording of it will be in your PERSONAL "SESSIONS" list from approximately 2 hours after the live Presentation until June 26.  These recordings will only be available to persons who have registered for the live session.
VIEW SCHEDULE
BECOME A MEMBER TO RECEIVE A DISCOUNT ON SESSION REGISTRATION
A variety of sessions by both Canadian and International teachers is offered at this virtual event. You can click on the image at the top of the section or scroll down further to see more information about each offering and the presenter. Each session is 1 hour and 30 minutes total which allows time for questions and answers. The sessions are a virtual webinar format.
Have a question about registration?  Click Frequently Asked Questions or contact Janet Kasper at 1-877-672-8777 ext. 2 or by emailing cqaregistrar@gmail.com
How to Capture a Wild Animal using Fabric and Thread with Sue Sherman
Thursday June 17, 2021
12:15 pm – 1:45 pm
Member $10 + tax
Non-member $12 + tax

Sue presents this new lecture on how to make interesting animal quilts from imperfect photos. Although she is not a professional wild animal photographer, Sue prefers to use her own photographs as a starting point to avoid any copyright issues. As an art quilter specializing in
wild animals, she will share what she has learned about making the best of the photos she has taken. Techniques included in this lecture will be photograph tips, how to select a photo for a quilt, and how to make up for mediocre photo quality. Although this presentation concentrates on the design part of the process, the basic elements can apply to any quilting technique. And these techniques do not just apply to exotic animals from faraway places, but can be used to capture local wildlife in your backyard or your beloved family pet.
---
By day, Sue is a textile artist working with fabrics, dyes and sewing machine to make quilts depicting wild animals. She painstakingly paints or stitches feathers, scales or fur to create very realistic images. Her art quilts zoom in one or a few animal subjects, mostly using her own amateur photographs as a basis for the design. Sue loves to travel, especially to places with iconic vistas or interesting wildlife.
At dusk Sue becomes a slow stitcher, making Hawaiian quilts and other projects using hand applique and hand quilting. She lived most of 2012 through 2014 in Honolulu where she belonged to a Hawaiian quilting group that met each week on the Iolani Palace grounds. There she learned about the techniques, designs and cultural significance of Hawaiian quilting, building upon a lifetime's experience with a needle and thread.
Sue's pieces have been juried into the 2018, 2019 and 2020 National Juried Shows, where they were awarded "Excellence in Hand Quilting" at the National Juried Show in 2018 and 2019, as well as First Place for "Art – Portraits" in 2019. Her quilts have also been juried into various AQS shows, including a third place ribbon for hand quilting in the 2019 Charleston show, and a third place ribbon in the miniature category at the IQA (International Quilt Association) Judged Show in Houston (2019).
Sue is a Juried Artist Member (JAM) of Studio Art Quilt Associates (SAQA). Two of her pieces have been juried into SAQA travelling art quilt exhibitions, both in 2019: "Listen for the Music" in Musica!, and "Tambuzi Takeoff" in Aloft.
Fabrics based on several of Sue's penguin quilts, including the award-winning "Huddle!", have been combined into the Magdalena collection by Northcott fabrics, for sale starting November 2020. She has also created two quilt patterns based on this fabric line.
Sue has also created three art quilt patterns/kits ("Bashful Honu", "Giraffe Duo", and "Turtle Encounter"), which feature raw edge appliqué and, for the kits, hand dyed fabrics.
For most of her life Sue pursued a career as an engineer/project manager focusing on transit infrastructure, retiring in 2017.
Sew Smart - The Ergonomics of Healthy Quilting with Rose Parr
Thursday June 17, 2021
3:15 pm – 4:45 pm
Member $10 + tax
Non-member $12 + tax
Rose shares her expertise on how to sew smarter, healthier, and happier.
Quilting shouldn't be a pain in the neck!  This presentation will make sure you have the right posture, techniques, and stretches when putting in those dedicated hours on your next project.
---
Rose has been sewing for 40 years, quilting for 30 and a personal trainer since 1995. In addition, she holds certifications in Ergonomics, Holistic Nutrition, Arthritis Pain Management, Home Economics, Reiki, Meditation and Active Aging. Rose enjoys speaking to quilt guilds and has presented internationally at Europe's largest quilt show, The Festival of Quilts.  She is an author with C & T publishing and a regular contributor to Canadian Quilter magazine. She believes that healthy quilting includes: the ergonomics of sewing, pressing, cutting, as well as stretches designed for "quilters' neck", stooped shoulders, back pain, and carpal tunnel syndrome prevention. Rose and her husband are the proud parents of four twenty somethings and live in Guelph, Ontario, Canada.  Her book " Sew Healthy & Happy, Smart Ergonomics, Stretches & More for Makers" is due out March 2021 from C and T Publishing. 
My Patchwork Path with Anna Maria Horner
Thursday June 17, 2021
7 pm – 8:30 pm
Member $10 + tax
Non-member $12 + tax

Anna Maria's hope for her lecture is that sharing her story in art, design, and patchwork will inspire and energize quilters in their personal relationship with quilt making. She will share a few dozen quilts that illustrate her creative process which is rooted in fine art and translated to quilt composition. She shares her influences and musings that run the gamut from Henri Matisse paintings to handcrafted family heirlooms.  Further with each quilt shown she lifts the veil on her tasks of building color palette, handwork techniques, and the compositional choices she makes that promote her growth as a contemporary quilt maker.
---
Anna Maria Horner grew up in a house full of her dad's paintings and with a closet full of her mom's handi-work. Beds were warmed by the hand-loomed wool blankets sent by her grandmother from Greece. The busy bodies of her and her siblings were warmed by the beautiful hand-knits of their grandmother in Indiana. As a kid in the 70's, she passed up store-bought Barbie dresses and instead created them from her mother's fabric scraps. 
In 1995, after graduating with an Honors Fine Arts Degree in Drawing from the University of Tennessee, Anna Maria opened Handmaiden, a clothing and housewares retail project. The shop served as home base for Anna Maria's clothing line which she designed and produced, together with her mom. Eventually, the label was offered to the wholesale market, where it sold at several stores across the Southeast
Designing clothing for five years served a lifelong interest but  Anna Maria kept her hands in many mediums on a daily basis. She stayed active artistically by exhibiting in galleries regularly. Her paintings, both small and large scale, are a part of hundreds of private and commercial collections.
There have been varied stops on her path to here, but a common element in all of her work, whether fashion, quilting or fine art, is a passion for the language of color. Somewhere around 2001, her fascination with taking an idea through all the necessary steps from her sketchbook to a store shelf sparked the momentum to create a brand. Anna Maria's fresh perspectives within traditional markets and her vision of being surrounded by the work of her own hands has led her to partnering with more than two dozen manufacturers to design homewares, gift items, and textiles. Her focus has intensified in the craft, sewing and quilting community where her creativity was first planted as a girl, and she has authored three sewing books, and self publishes a continuing collection of sewing, quilting and needlework patterns.
Sharing her point of view through teaching design, stitching and patchwork has become an increasingly important part of Anna Maria's work. Her current workshop and lecture calendar can be found here.
Anna Maria and her family make their home on a rambling two acres in Nashville, Tennessee. She works from a lofty, attic studio filled with fabric, thread, drawings, schemes and the remnants of intermittent playtime with the children. She is the mother of seven (6 to 27) and has been incredibly thankful to be able to seek out her creative goals in the presence of her family for almost 3 decades.
2,000 Years of Patchwork - Pojagi, Jogakbo and Korean Tradition with Elizabeth Decroos
Friday June 18, 2021
9:15 am – 10:45 am
Member $10 + tax
Non-member $12 + tax

Pojagi are traditional Korean wrapping cloths used to carry, store and cover items. The first recorded mention of them is almost 2,000 years ago. Although it developed on the other side of the world, the history of this art form is similar to western quilting. Women used what they had to create beautiful and useful pieces. Learn the history of pojagi, see demonstrations of the techniques used in stitching it, and be inspired by both traditional and modern pieces.
---
Elizabeth started sewing as a child, and has always been interested in a variety of needlecrafts. In 2009, she took her young family to South Korea, where she had the opportunity to learn pojagi – a traditional Korean art form that goes back thousands of years. Pojagi is characterized by hand stitching seams with an overcast stitch rather than a running stitch.
Upon returning to Canada, Elizabeth continued to create with pojagi and even developed techniques for similar patchwork using a sewing machine and materials more readily available in the west.
She enjoys pojagi as well as traditional western quilting and embroidery in her home base – Epida Studio. Her pattern line is called Epida Designs and includes patterns in a variety of techniques.
You can find her teaching pojagi, quilting and embroidery at in person workshops and through online courses and tutorials at her website epidastudio.com.
Show Perfect - Photographing Your Quilts with Valerie Wilson
Friday June 18, 2021
12:15 pm – 1:45 pm
Member $10 + tax
Non-member $12 + tax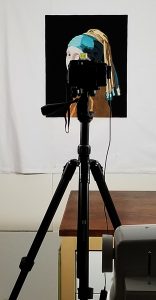 Would you like the photographs of your quilts to be show perfect, increasing your chances of being accepted into a quilt show?
How about having a photographic record of your quilts? 
Do you want to take your own photos of your quilts, rather than paying a professional photographer to do it for you?  
You can do it! No expensive equipment needed!
In this lecture you will learn how to:
to avoid strange colours and/or distorted views of your quilts

determine what equipment you will need 

inexpensive options for lighting and hanging your quilts
Learn all about the ins and outs of photographing your own quilts and how to get great quality photos.
---
A love of fabric and quilts began the moment Valerie Wilson curled up beneath one of her grandmother's quilts as a child.  Wilson has worked with fabrics from childhood, learning embroidery from her grandmother and garment sewing from her mother. She started out with traditional quilting, but soon decided that what she really yearned to do was create pictures from fabric. In 2002, Wilson started quilting and in 2014, fibre art became her full-time occupation.
Having once been the owner of an architectural antique business, Valerie maintains a keen interest in old houses, and the people who lived in them. This is evident in Valerie's current series; vintage portraits based on those brilliant old photos depicting the way we once were. Valerie combines a love of history and a curiosity about people from the past, to capture character in fabric.
Valerie's award-winning work has been exhibited from British Columbia to St. John's, Newfoundland in Canada, and internationally from New Zealand to Houston, Texas. 
Valerie became the Fibre Art Network (FAN) Membership Co-ordinator in 2004, when she joined this co-operative of professional, Western Canadian fibre artists. And in 2016 became a Juried Artist Member of Studio Art Quilts Associates (SAQA). 
Valerie was born in Carberry, Manitoba, amongst the rolling sand hills. Craving change, she sampled life in the university town of Kitchener-Waterloo for a few years, but then decided that she could no longer resist the pull of the sunny climes of Manitoba, and now resides in Winnipeg, Manitoba, Canada.
Oh Canada! The Quilting Heritage of the True North with Mary Elizabeth Kinch
Friday June 18, 2021
3:15 pm – 4:45 pm
Member $10 + tax
Non-member $12 + tax
This lecture and slide presentation illustrates Canada's incredibly diverse quilting history over the last 150 years.  Explore the artistic, quilting, and stitching talents that our ancestors brought with them. Gain an understanding and appreciation of how patterns and designs travelled across the country, how styles changed, and how unique regional quilts came to be.  This rich presentation is full of ideas that will leave you inspired, and eager to pick up your needle and start stitching!
---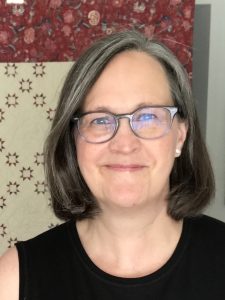 Mary Elizabeth Kinch is a professional quiltmaker, fabric designer, teacher,  speaker and co-author of two best-selling books, Small Blocks, Stunning  Quilts and Small Pieces, Spectacular Quilts. As you may gather from the  titles, small pieced quilts make her weak at the knees. She has been a  featured guest on The Quilt Show with Alex Anderson and Ricky Tims, and her work has been shown at international quilt shows, and juried into the  AQS Show in Paducah and into Quiltcon. Her work has been featured in  many international quilting publications and she is a frequent contributor to Curated Quilts Magazine. 
Mary Elizabeth believes in "Quilting with Abandon", stretching traditional  boundaries and creating quilts with a subtle salute to the past. She is  enthusiastic about our quilting heritage and the lessons to be learned  from the antique and vintage quilts she studies and collects. Her recent  work examines colour, as well as the interpretation of traditional quilt  designs through "gestured appliqued lines" and the quilting stitch.  
Quilts are only quilts once the three layers are stitched together. This third,  often overlooked, element of the quilt powerfully impacts Mary Elizabeth's  work. During this final stage of a project, her needle drawing the  thicknesses together, you will often find her running her hand over  completed areas of work in tactile celebration. 
Mary Elizabeth has taught students of all ages and skill levels, locally and  internationally. Her workshops, like her approach to creativity and  quilting, are relaxed but structured. Ensuring instructions meet each  student's skill level, she guides them in developing their personal creative  vocabulary allowing them to freely express their ideas through their work.  Did you know that colours can be "chewy", some designs can be "bossy"  or what makes fabrics "play well together"?  
When not quilting, Mary Elizabeth designs interior residential projects. She  uses a simple, elegant, well-edited approach, embracing colour and light,  to create homes where her clients can relax and live life. She lives in  Toronto and her kids would tell you she has "lots" of fabric!
Colour Your World with Gloria Loughman
Friday June 18, 2021
7:00 pm – 8:30 pm
Member $10 + tax
Non-member $12 + tax
Colour is probably the most expressive and emotional element of design.  An effective use of colour can turn something ordinary into something quite extraordinary. Come and enjoy a lecture focussing on colour including lots of useful information and strategies, images of some wonderful quilts and photos of colourful inspiration. This lecture is for those of you who have the motivation to explore colour.  A beautiful world awaits you!
---
Gloria lives close to the sea in a beautiful part of Victoria called Clifton Springs, Australia.   She trained as a secondary teacher having worked mainly in the literacy and special education faculties.  Gloria's initiation into the world of patchwork occurred approximately 30 years ago when she was recovering from a course of chemotherapy.
Over the years Gloria has dabbled in many areas including strip piecing, bargello, colourwash, fabric dyeing and painting, and machine embroidery   After completing some studies in design and color as part of a Diploma of Art in 1996, she began to make  large vivid landscape quilts depicting the Australian bush. Having the opportunity to travel to many unique and fascinating parts of her continent, she is continually challenged to reproduce these images in fabric.  Most of the textiles used have been hand dyed or painted and feature extensive machine embroidery. These quilts have won many major awards in Australia, Europe, Japan and the United States. Her quilt 'Kimberley Mystique' was the winner of Australia's most prestigious national quilting award in 2003.
Gloria has been teaching patchwork classes for many years and she really enjoys sharing her knowledge and skills with others.  She likes to challenge her students to design their own quilts, but she is also happy to provide patterns for those less confident. 
In 2009, her commitment to teaching was acknowledged when she received the Rajah Award, presented annually for an outstanding contribution to quilt making in Australia.
 Gloria has four books published by C&T: Luminous Landscapes, Quilted Symphony, Radiant Landscapes and Fabulous Facades. She also has an on-line class featured on the Craftsy website.
What began as a therapy has developed into a passion and has given Gloria the opportunity to travel the world exhibiting her quilts, teaching classes and meeting lots of wonderful people.
Year of Deep Creation with Olesya Lebedenko
Saturday June 19, 2021
9:15 am – 10:45 am
Member $10 + tax
Non-member $12 + tax
Textiles and threads are Oleysa's way to draw her world. It's a freedom to mix colors with texture and add tiny touches to bring life to the character. "Year of Deep Creation", an author's journey, is a story about a year-long 365 days challenge from block to books. Oleysa vividly remembers that it was the 28th of April 2018 when she decided to start a BIG year-long scrap challenge. So very seriously, she promised herself that every day no matter what, I'd make a finished block. Oleysa was fully aware that the task was huge, so she needed to choose a block format wisely. So that's why she prepared squares 3.5″ by 3.5″ (9cm by 9cm) as a perfect size for using scraps. Oleysa will describe how she created, found her own style and many more stories about her journey!!!
---
Olesya Lebedenko is an artist from Ukraine living in Canada, where she works and creates modern pattern designs. She is a teacher, designer, quilter, books author, magazine contributor, doll maker, and the founder and owner of Olesya Lebedenko Design brand. Her work has been featured in Canadian, USA and Ukrainian publications, she has written dozens of tutorials, articles, and she has led hundreds of workshops in Europe and Canada. 
Olesya is a professional member of the Canadian Quilters' Association and the International Quilt Association. She is also a member of the York Heritage Quilters
Guild, based in Toronto. To learn more about Olesya Lebedenko visit her website (www.olesya-l-design.com), or follow her Instagram (@olesyalebedenkodesign).
Goose On The Loose with Janet Barker
Saturday June 19, 2021
12:15 pm – 1:45 pm
Member $10 + tax
Non-member $12 + tax
From traditional to modern, using techniques such as straight piecing, paper piecing or using just one seam, take a fresh look at the small but mighty Flying Goose unit in this one-hour slide presentation. Janet will dip into my extensive samples, throw in a few treasures from online sources, and finish with her stretched and squeezed variations on 3D Flying Geese, used in many of her original patterns. Come fly with Janet!
---
Janet was educated as an engineer and worked as a geophysicist for thirty years in Calgary.  Her quilting journey started in the year 2000 with a new millennium resolution – to use up her many bits of leftover garment fabric in quilts (Ha – did she have a lot to learn!).  She quickly discovered that she spent more time analyzing patterns than following them, always trying to build a better mousetrap.  She was soon designing and selling original quilt designs, and teaching those patterns followed shortly thereafter.  Janet has taught for guilds or at conferences coast to coast in Canada; her most recent teaching engagement with Quilt Canada was at their conference in Vancouver in 2018. Her latest effort has been virtual workshops in an effort to stay connected during Covid19.
Janet maintains an online quilt design business through her Etsy shop, jb.quiltdesigns.  She was a frequent contributor to Quilter's Connection magazine before the editor retired, with her quilts often featured on the cover.  She has also been published in Canadian Quilter magazine and The Quilt Pattern Magazine. She teaches workshops, designs and sells patterns (both online and wholesale), and sits on the committee for the Heritage Park Festival of Quilts in Calgary.  Her love of colour and anything scrappy (with an emphasis on organized scrappy) is renowned.
Working Small / The Making of a Mini with Sandy Simmelink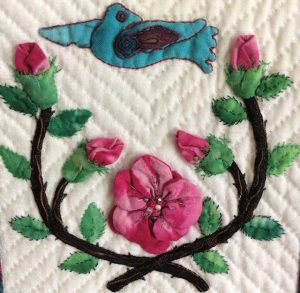 Saturday June 19, 2021
3:15 pm – 4:45 pm
Member $10 + tax
Non-member $12 + tax
This fun presentation has 2 purposes, to help viewers understand visually what a true miniature is compared to a small quilt,  and then takes the viewer on a journey from idea, through the purchase of fabric in New York City, through all of the design decisions and creation of a miniature that has been accepted into last year's NJS.  Sandy also draws on her years of experience making very small blocks, to give listeners tips and tricks to make small blocks without sacrificing detail.  The hope is to encourage others to design and create miniatures and small block quilts that they and their family will enjoy for generations to come.
---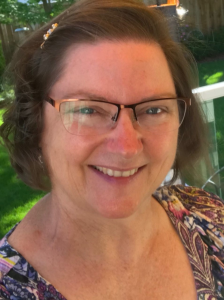 Sandy Simmelink specializes in telling stories in her quilts, and is an expert in a variety of techniques including needleturn applique, using 3D embellishments, incorporating lace, men's ties and silk, inking, and embroidery as well as quilt design.   She is a 4 time CQA/ACC National Juried Show award winner, and a World Quilt Competition winner for best hand workmanship.  Her quilts have been shown in Japan and France as well.  She was a judge for 2009 CQA/ACC NJS at Quilt Saskatchewan, and is a nationally recognized teacher and lecturer.  Sandy enjoys helping students to design quilted pieces that are personal to them while capturing their stories. 
Hover Quilting - A Fresh Look at Raw-Edge Applique with Peter Byrne
Saturday June 19, 2021
6:15 pm – 7:45 pm
Member $10 + tax
Non-member $12 + tax
Hover-quilting is a new form of raw edge applique, absent of fusible web.  This innovative technique produces not only a beautiful controlled frayed edge, but also creates the illusion of the piecing hovering above the quilt top.
Since making the original Hover-quilt titled "Pathways" in 2019, Peter has gone on to explore how hover-quilting can be applied to many different quilt designs.  Having completed 8 innovative quilts using this technique, Peter will be sharing these with you in detail in this presentation!
You will see the process of hover-quilting while enjoying his trunk show.  Peter will share inspiration on all of the ins and outs of Hover-quilting, leaving you wanting to explore this playful new technique!
---
Peter is an award winning  modern quilter and teacher with a deep passion for innovation and original design, who consistently maintains a fresh approach with technical mastery. More  importantly he loves quilting and teaching quilting.
Peter brings a decade of quilting experience to the classroom having taught basic, intermediate and advanced levels. He values creating a supportive atmosphere in his clases. Peter's  students  describe him as knowledgeable, well organized, positive and caring, but most of all an incredibly patient teacher.
Peter's goal is innovation, his passion is creativity and his gift is having opportunities to share new techniques with you, and your friends in the quilting community.
You can follow me on Instagram @petersquilts and l invite you to view my quilts at peterbquilts.com
click here for the printable pdf calendar.
All times are listed in Eastern Daylight Time (EDT),  click here for the Time Zone Conversion Chart
Join these unique virtual presentations to explore the CQA/ACC National Juried Show in way you not have done in the past. Each of the 12 tours (one French and 11 English) is a unique look at quilts from a particular category, the award winners or an overall look at the jurying and judging process with a sampling of quilts from throughout the show.
In addition to sharing with you the behind the scene stories on a sampling of entries featured in that particular tour, your guide will offer insights into aspects of the jurying and judging process.
The tours are being conducted by CQA/ACC Certified Judges and Board of Directors and are conducted on a "Live" webinar format. One hour in length, they consist of a 45-50 minutes tour with 10-15 minutes reserved for questions.
Even if you have never thought about or entered a juried or judged show, your guided look at these amazing NJS entries will have you looking at quilts in a whole new way.
Scroll on down the page to see the detailed descriptions of each tour.
Tour#1 - Célébrez l'excellence de la courtepointe! (Cette visite se déroule en français)
(une visite virtuelle de 45 minutes plus 15 minutes de questions et réponses). La visite comportera une présentation PowerPoint et se
déroulera au format webinaire Zoom.
jeudi 17 juin 2021
de 8 h à 9 h matin EDT
Member $10 + tax
Non-member $12 + tax

Obtenez l'exclusivité. Cette visite vous présentera le processus général de jury et de jugement des courtepointes pour l'Exposition Concours nationale. Au fur et à mesure que vous regardez une sélection d'entrées, votre guide vous expliquera certains des attributs recherchés par les jurés et les juges lors du choix des courtepointes et des lauréats. Qu'est-ce qui rend une courtepointe vraiment excellente ?
Tour #2 - Celebrate Excellence in Quilting! (English)
(a 45-minute tour + 15 minutes Q&A via a "live" PowerPoint presentation via a virtual webinar platform)
Thursday June 17, 2021
11:00 am – noon EDT
Member $10 + tax
Non-member $12 + tax

Get the inside scoop! This tour will introduce you to the general process of jurying and judging quilts for
the National Juried Show. As you view a selection of current entries, your tour guide will discuss some of
the attributes jurors and judges look for when selecting show quilts and award winners. What is it that
makes a quilt truly excellent?
Tour #3 - Celebrate Adventure!
(a 45-minute tour + 15 minutes Q&A via a "live" PowerPoint presentation via a virtual webinar platform)
Thursday June 17, 2021
2:00 pm – 3:00 pm EDT
Member $10 + tax
Non-member $12 + tax
If you love colour, line and design, this tour is for you! Featuring entries from the National Juried Show's
Abstract and Improvisational category, this tour will illustrate how these elements work together to
create exciting, abstract compositions. Come for the inspiration, stay for the adventure!
Tour #4 – Celebrate Critters and Characters!
(a 45-minute tour + 15 minutes Q&A via a "live" PowerPoint presentation via a virtual webinar platform)
Thursday June 17, 2021
5:00 pm – 6:00 pm EDT
Member $10 + tax
Non-member $12 + tax

Here's your chance for a close-up view of the quilts in the National Juried Show's Art Depiction of
Human and Animal Form category. How exactly did the artist render such realistic pets and people,
anyway? From fur to feathers, faces to fancy dress, we're sure you'll be smitten with them all!
Tour #5 – Celebrate Landscapes and Still Life!
(a 45-minute tour + 15 minutes Q&A via a "live" PowerPoint presentation via a virtual webinar platform)
Friday June 18, 2021
8:00 am – 9:00 am EDT
Member $10 + tax
Non-member $12 + tax

Take a virtual walk through the Landscape/Still Life category of the National Juried Show. Appreciate
the artists' skills in bringing beautiful scenes to life. Whether scenes are man-made or natural, on a
grand scale, or sitting on a table, landscapes and objects always tell such wonderful stories
Tour #6 – Celebrate Inspiration!
(a 45-minute tour + 15 minutes Q&A via a "live" PowerPoint presentation via a virtual webinar platform)
Friday June 18, 2021
11:00 am – noon EDT
Member $10 + tax
Non-member $12 + tax
Photographs, paintings, illustrations, sculptures, and more – inspiration is endless! See how work by
other artists has been skillfully translated directly into cloth, or interpreted and used as inspiration for
something new in this tour of the National Juried Show's Textile Translations category. You won't
believe your eyes!
Tour #7 – Celebrate Modern!
(a 45-minute tour + 15 minutes Q&A via a "live" PowerPoint presentation via a virtual webinar platform)
Friday June 18, 2021
2:00 pm – 3:00 pm EDT
Member $10 + tax
Non-member $12 + tax
Explore minimalism, asymmetry, use of negative space, improvisational piecing, use of solids or modern
prints, and the alternative grid as you tour the National Juried Show's Modern – Wall Hanging and Bed
Quilts category. Chock-full of original designs, these quilts exemplify the strong appeal of modern quilts.
Tour #8 – Celebrate Tradition!
(a 45-minute tour + 15 minutes Q&A via a "live" PowerPoint presentation via a virtual webinar platform)
Friday June 18, 2021
5:00 pm – 6:00 pm EDT
Member $10 + tax
Non-member $12 + tax
Marvel at the skill and artistry of the traditional beauties featured in this tour of the Traditional – Wall
Hanging and Bed Quilt category of the National Juried Show. Grounded in tradition, you'll see original
designs that use traditional piecing styles, applique or whole cloth techniques taken to the next level!
Tour #9 – Celebrate Quilt Makers!
(a 45-minute tour + 15 minutes Q&A via a "live" PowerPoint presentation via a virtual webinar platform)
Saturday June 19, 2021
8:00 am – 9:00 am EDT
Member $10 + tax
Non-member $12 + tax
Expect variety is this tour of the National Juried Show's Patterns/Books/Magazines of Social MediaWall Hanging or Bed Quilt category! Though they appear quite different on the face of it, the makers of
these entries clearly share a love of quilting and a drive for attaining a high standard of workmanship.
Oh, and you can also expect to be inspired to enter your own quilt in future after hearing the tips and
insights shared by your tour guide!
Tour #10 – Celebrate Miniature Quilts!
(a 45-minute tour + 15 minutes Q&A via a "live" PowerPoint presentation via a virtual webinar platform)
Saturday June 19, 2021
11:00 am – noon EDT
Member $10 + tax
Non-member $12 + tax
Take a tour around these fascinating smaller quilts from the Miniature category. These little wonders
can be traditional, contemporary, art or modern style and must be a reduced scale and miniaturization
of a full-sized project. In addition to looking at aspects in these entries which saw them selected for
display in this show, your guide will give you some insight into creating these small quilts.
Tour #11 – Celebrate Award Winning Quilts Part 1
(a 45-minute tour + 15 minutes Q&A via a "live" PowerPoint presentation via a virtual webinar platform)
Saturday June 19, 2021
2:00 pm – 3:00 pm EDT
Member $10 + tax
Non-member $12 + tax
Your guide will take you through the award winning (first, second and third place) quilts for each of the
eight National Juried Show categories. The tour will include insight as to the aspects of these quilts that
made them award winners. For several of the quilts, you will hear stories about the quiltmakers and
their creations that are not included in the artists' statements.
Tour #12 – Celebrate Award Winning Quilts Part 2
(a 45-minute tour + 15 minutes Q&A via a "live" PowerPoint presentation via a virtual webinar platform)
Saturday June 19, 2021
5:00 pm – 6:00 pm
Member $10 + tax
Non-member $12 + tax
Join your guide for a tour of the judges' choice, Awards of Excellence, the Dorothy McMurdie and the
Best in Show winning quilts. The tour will include insights into the aspects of these quilts that made
them award winners. And for several quilts, you will hear the stories about the quiltmakers and their
creations that are not included in the artists' statements.